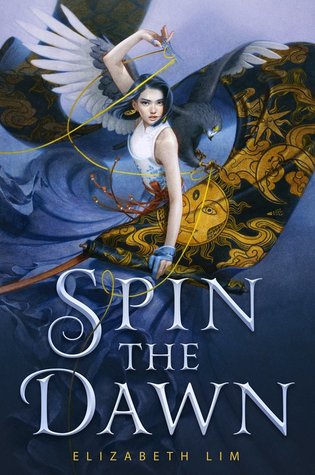 Spin The Dawn by Elizabeth Lim
Genre: YA Fantasy, Action, Adventure, Magic
Publication: July 9th 2019 by Alfred A. Knopf Books for Young Readers
Series: The Blood of Stars #1
Length: 416 pages
Format: ARC from Penguin Random House International
Rating: ★★★★.5
Amazon || Book Depository
Barnes & Noble
Project Runway meets Mulan in this sweeping YA fantasy about a young girl who poses as a boy to compete for the role of imperial tailor and embarks on an impossible journey to sew three magic dresses, from the sun, the moon, and the stars.
Maia Tamarin dreams of becoming the greatest tailor in the land, but as a girl, the best she can hope for is to marry well. When a royal messenger summons her ailing father, once a tailor of renown, to court, Maia poses as a boy and takes his place. She knows her life is forfeit if her secret is discovered, but she'll take that risk to achieve her dream and save her family from ruin. There's just one catch: Maia is one of twelve tailors vying for the job.
Backstabbing and lies run rampant as the tailors compete in challenges to prove their artistry and skill. Maia's task is further complicated when she draws the attention of the court magician, Edan, whose piercing eyes seem to see straight through her disguise.
And nothing could have prepared her for the final challenge: to sew three magic gowns for the emperor's reluctant bride-to-be, from the laughter of the sun, the tears of the moon, and the blood of stars. With this impossible task before her, she embarks on a journey to the far reaches of the kingdom, seeking the sun, the moon, and the stars, and finding more than she ever could have imagined.
Steeped in Chinese culture, sizzling with forbidden romance, and shimmering with magic, this young adult fantasy is pitch-perfect for fans of Sarah J. Maas or Renée Ahdieh.
Trigger warnings: This book mentions a lot of sensitive stuff like murder, violence, and sexual assault. If these topics are known triggers for you, I highly suggest that you tread carefully should you choose to read this book and/or this review.
I consider this book diverse because it's an Asian-inspired fantasy, with a POC as a main character, written by a POC author. (And yes, it's #ownvoices!)
Huge thanks to my friends from Penguin Random House International for sending me a review copy of this title in exchange for an honest review. And to Shealea of Caffeine Book Tours for letting me be a part of her blog tour. This did not, in any way, affect my overall opinion of the book and/or the story.
Okay so quick back story before I start off this review…
Back when I was a kid, I had a knack for drawing stuff, most especially gowns and dresses. I can distinctly recall myself watching Elie Saab fashion shows way back when, and would later possess this drive to imitate or recreate them as sketches. Unfortunately, as time went by, my love for drawing dwindled down mainly because of lack of support. (I mean… I didn't know that I was gay back then, and so my parents weren't as lenient with me as they are now. They reprimanded me and said that drawing those kinds of stuff wasn't something a boy should be doing and so I tried to find different things to busy myself with.) But needless to say that my love for elegant and opulent evening gowns and dresses never really went away. It was just suppressed and was later on awakened by Elizabeth Lim's Spin The Dawn.
Pitched as Mulan meets Project Runway, Spin The Dawn tells the story of Maia Tamarin, an aspiring tailor, who dreams of becoming the imperial tailor of the kingdom of A'landi. But since she's born female, all she's supposed to hope to achieve is to find a good man to marry. But when her father is summoned by the palace to join a fierce competition by creating magnificent dresses and accessories fit for royalty, she has no choice but to pose as one of her brothers and take her father's place.
I absolutely adored the way that the world of A'landi was built and improved. I appreciated how with every chapter, the setting just keeps getting better and better—from the imperial palace, to the dessert, to just about anywhere Maia went to. I was personally impressed by how well-written this specific aspect of the story was. To me, it felt like the world had such strong foundations, and the storytelling contributed to making the story a lot more vivid, and graphic—sometimes a little too unrealistic, but what can we expect from a fantasy novel, right? I really enjoyed accompanying Maia on her quests and to see her push herself to be the best she can be to see her plans through made my reading experience all the more special. For this aspect alone, Spin The Dawn already wowed the living heck out of me and I'm absolutely looking forward to seeing what different parts of A'landi we'll all get to discover in the next installment.
The characterization in this is also commendable and I like how each and every character who were in the narrative actually played major roles in telling Maia's story. I consider it a pet peeve whenever there are too many characters who do little to better the plot line of a story and so I really did appreciate the line up the readers are given here. From Maia's brothers, to Emperor Khanujin and Lady Sarnai, to even the magical creatures Maia and Edan encountered during their quest, they all somehow, in their own small way, had important parts to play in the story. And in the end, everything paid off quite splendidly. I really enjoyed reading about Maia, and Edan, and to see our main character transform from a young girl to a fierce, passionate and inspiring woman in just a few pages delighted me in more ways than one, and I look forward to seeing and knowing more about them, again, in the sequel.
Another aspect that I really, really enjoyed was the star-crossed lovers romance between Maia and Edan. If any of you guys can recall, I've said in quite a few of my reviews that I usually dislike romance being present in fantasy stories. This is because it can easily take away the spotlight from the story being action-packed or magic-filled. But that just wasn't the case for Spin The Dawn. Maia and Edan's love story complemented the fantasy and action aspect of the story and I couldn't have pictured this book to be so impressive and so well-written if it not for their romance. (I'm sorry, I'm a romance reader through and through! It's a known fact!) The way they helped each other in every possible way to allow for Maia to create dresses that incorporated the goddess Amana's children—the sun, the moon, and the stars—was both thrilling and, dare I say, romantic and I absolutely wanted more! Here's to hoping that there will be more of Maia and Edan in the next book.
"Reading Spin The Dawn feels like watching Mulan and an episode of Project Runway at the same time but with magic and much higher stakes. Maia's story breathed life into a classic genre and it will have you gripping it's pages from start to finish. Equal parts romantic, heart-stopping, and magically enchanting, Spin The Dawn will no doubt be an easy favorite for those who are on the lookout for diverse, fantasy narratives that lend a spotlight to POC voices and stories."
Have YOU read Spin The Dawn yet? If so, then how was it for you? Let me know what you thought down below in the comments section! And if you haven't gotten yourself a copy of Elizabeth Lim's newest, then be sure to do so as soon as possible and come back here to discuss!
And be sure to check out the posts of my blog tour co-participants in the upcoming days! Here's Shealea's tour schedule:
And be sure to join us for a Twitter chat on July 7, 2019, Sunday (9AM EST / 9PM PHT) Use the #CBTTC tag and come join the fun!

Elizabeth Lim grew up on a hearty staple of fairy tales, myths, and songs. Her passion for storytelling began around age 10, when she started writing fanfics for Sailor Moon, Sweet Valley, and Star Wars, and posted them online to discover, "Wow, people actually read my stuff. And that's kinda cool!" But after one of her teachers told her she had "too much voice" in her essays, Elizabeth took a break from creative writing to focus on not flunking English.
Over the years, Elizabeth became a film and video game composer, and even went so far as to get a doctorate in music composition. But she always missed writing, and turned to penning stories when she needed a breather from grad school. One day, she decided to write and finish a novel — for kicks, at first, then things became serious — and she hasn't looked back since.
Elizabeth loves classic film scores, books with a good romance, food (she currently has a soft spot for arepas and Ethiopian food), the color turquoise, overcast skies, English muffins, cycling, and baking. She lives in New York City with her husband.
Until the next one!
Follow me around the internet!
Facebook |  Twitter | Instagram | Goodreads