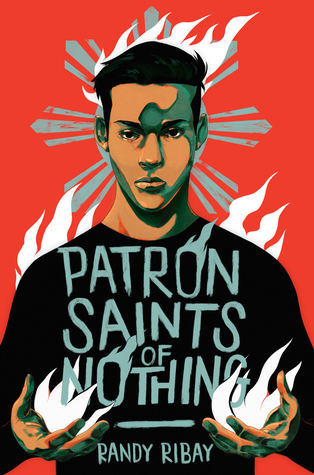 Patron Saints of Nothing by Randy Ribay
Genre: YA Contemporary, Realistic Fiction, #ownvoices
Publication: June 18th 2019 by Kokila
Series: None. Standalone.
Length: 320 pages
Format: ARC from Penguin Random House International
Rating: ★★★★★
Amazon || Book Depository
Barnes & Noble
A powerful coming-of-age story about grief, guilt, and the risks a Filipino-American teenager takes to uncover the truth about his cousin's murder.
Jay Reguero plans to spend the last semester of his senior year playing video games before heading to the University of Michigan in the fall. But when he discovers that his Filipino cousin Jun was murdered as part of President Duterte's war on drugs, and no one in the family wants to talk about what happened, Jay travels to the Philippines to find out the real story.
Hoping to uncover more about Jun and the events that led to his death, Jay is forced to reckon with the many sides of his cousin before he can face the whole horrible truth — and the part he played in it.
As gripping as it is lyrical, Patron Saints of Nothing is a page-turning portrayal of the struggle to reconcile faith, family, and immigrant identity. 
Trigger warnings: This book mentions a lot of sensitive stuff like substance abuse, murder, poverty, and unwelcome tension and confrontation in families. If these topics are known triggers for you, I highly suggest that you tread carefully should you choose to read this book and/or this review.
I consider this book diverse because it's written by an #ownvoices author, telling a story about a bi-racial (Filipino-American) main character.
Huge thanks to my friends from Penguin Random House International for entrusting me and Bookworms Unite PH to host a local blog tour for this title and for sending review copies for me and other Filipino book bloggers in exchange for honest reviews. This did not, in any way, affect my overall opinion of the book and/or the story.
The first time I learned about Randy's newest book was when I met up with him and my good friend, Inah (The Bibliophile Confessions), for lunch at Robinsons Manila last year. We ate at a restaurant that served modern Filipino dishes (I mean, where else were we supposed to eat?) and he was kind enough to share a few details about what we now know is Patron Saints of Nothing. He mentioned that he was actually staying in Manila for a few days for research, and he also showed us a rough, uncolored sketch of the amazing cover (Inah and I completely lost all our sh*t by then.) and before we went our separate ways, Inah and I practically screamed at how exciting that whole experience was, and how ecstatic we both were for PSN. I read the ARC, as generously sent to me by the lovely people from Penguin Random House International, last March and boy, did it blow my mind and rip my heart out of it's cage. It made me cry my eyes out, made me question how I live my life, and it ultimately changed the way I see so many issues, especially those related to me, my nationality, and the country I consider my home. Read on to know what I thought of this poignant, #ownvoices novel.
A poignant story about pain, loss, grief, and how to move on from all of that, Patron Saints of Nothing follows Jayson Reguero, a Filipino-American teen who is about to graduate high school when he discovers three different things: 1) He got into the University of Michigan. 2) His Filipino cousin, Jun, was recently murdered as part of the Philippine government's war on drugs, and 3) No one from his family wants to talk about what, how, and why it happened. Wanting to know the whole truth behind everything, he travels to the Philippines and ends up discovering far more than just the death of his beloved cousin.
Political But Also Personal
From the moment I first read the synopsis for this, I knew right then that this YA novel would greatly tackle so many political topics. From the way that the infamous Filipino president and his army of policemen are glorified, to the unjustifiable murders of criminals, this book served more than just an average eye-opener. And what's scary about it is that it's telling actual facts. Sure, a Filipino "Jun Reguero" might not have died in actuality, but thousands of people have already been lost thanks to the war on drugs that has been going on for years now. It's horrifying, and to know that you're not safe even in your own neighborhood… It keeps you up at night, really. And so with that said, I'd like to point out that the author was able to incorporate politics into a story that's extremely personal, especially for those who know what the real deal is here in the Philippines. And I'm impressed at how he was able to pull this off—write a book that's soul-stirring, gut-wrenching, heartbreaking, and eye-opening all at the same time. And I know how dirty politics can be here from my side of the world, and so I've had little to almost no care for it in the past. That is, until now. This book woke up something in me that I didn't even know was sleeping, and I truly, truly appreciate that.
Accurate Representation
Patron Saints of Nothing is a harrowing story that puts a spotlight on Philippine life, focusing on an intense topic that not all Filipinos want to talk about honestly and openly simply because of fear. Through Jay's story, readers could easily get a glimpse of what it means to be a Filipino nowadays, and what awaits those who uses, and deals drugs in the country. As a Filipino, I think I have enough authority to say that Randy's way of telling this narrative was very well-researched and I can feel that a lot of effort went into writing and editing PSN. Inah is actually one of the sensitivity readers who worked on this book, and she even consulted me regarding a very specific detail. Even before that point, I knew that a lot of hard work went into producing this book, and so to see it achieve it's goal of accurately representing a Filipino-American voice in a platform as widely appreciated and enjoyed by many as mainstream literature meant a great deal to me. To see a story basically unfold in the streets of Manila, or the long roads of Albay made the Filipino reader in me scream for joy, not because of it's plot (Jay lost a cousin, y'all! That's not something worth celebrating.), but because of the mere fact that all of THIS is finally happening—I'm seeing my actual brown-skinned self in a YA book. And I know Randy didn't specifically wrote this story for me, but it sure damn feels like he did. So… Maraming salamat sa pagsusulat nitong kuwentong ito, Randy. At maraming salamat sa mga taong bumubuo ng Kokila sa pag-tulong kay Randy sa pagsusulat at pagpapamahagi nitong librong ito.
Living Bravely
Jay spent most of his time in the Philippines finding the right timing to ask the truth about his cousin's death. While he stayed with Jun's family, he waited until he was alone with his Tito (uncle) Maning, Jun's dad, to ask. He was almost always afraid to confront his so-called family about the reasons as to why they didn't want to talk about what's happening. I mean, yeah, sure, part of why this happened was because he respected everyone and chose not to overstep his boundaries. But by the time he did, it was a little too late. He lost his cousin, maybe not because of his total silence, but it sure did play a part. And one of my main takeaways from this book is one that I've also realized when I read Angie Thomas' The Hate U Give: What use will you have for your voice if you won't use it? Now more than ever, I know that it's important to voice out your opinions, especially in times when it matters. Go against oppressors, and fight for what you believe to be right. As time passed, and as he discovered more and more about his homeland, Jay turned into a responsible and honorable young man, one who had a voice, and a heart that's full of love for his family. And I'd like to think that this book somehow made me a little bit braver when it comes to voicing out my opinions. I'm the type of person who, at all costs, wants to avoid confrontation and tension, and all sorts of like stuff. But like Jay, I've witnessed something in this story that allowed for me to feel a whole lot better about myself, and I look forward to seeing whose lives will be touched (and changed) by this story too.
"As poignant, as it is eye-opening, readers would no doubt have lots to look forward to in Randy Ribay's Patron Saints of Nothing. It features a diverse story about losing the ones you love, grieving over such a loss, and how to move on and get past all that, all while trying to educate it's readers as to how it really is to be a Filipino today. I might not be able to comment on how accurate this book's rep is in terms of biracial stories, but I hope you'll believe me when I tell you that this book certainly packs one great punch. It certainly wrecked me, and if given the chance to do it all over again, I definitely would, gladly, in a heartbeat."
NOW FOR AN EXCITING ANNOUNCEMENT…
Bookworms Unite PH, in cooperation with Kokila Books and Penguin Random House International, will be hosting the PH book launch for Randy Ribay's Patron Saints of Nothing! This event will be held this Sunday, June 23, 2019, and registration will start by 1:00pm. It's a ticketed event and as of posting this review, all slots have already been taken. (Sorry!) For those who don't mind being waitlisted, feel free to reach out to me or any other BU host. And for those who, unfortunately can't make it, follow along with our adventures with the #RandyRibayinPH and #BUPHxRandyRibay tags.
Have YOU read Patron Saints of Nothing yet? If so, then how was it for you? Let me know what you thought down below in the comments section! And if you haven't gotten yourself a copy of Randy's newest yet, then be sure to do so and come back here as soon as possible and discuss with me!


Randy Ribay was born in the Philippines and raised in the Midwest. He is the author of After the Shot Drops and An Infinite Number of Parallel Universes. He earned his BA in English Literature from the University of Colorado at Boulder and his Master's Degree in Language and Literacy from Harvard Graduate School of Education. He currently teaches English and lives in the San Francisco Bay Area.
His latest book about a Filipino-American teen coping up with loss and grief, Patron Saints of Nothing, is set to come out on June 18, 2019 from Kokila, an imprint of Penguin Random House.
You might find her online on Twitter, Instagram, or her website.
Until the next one!
Follow me around the internet!
Facebook |  Twitter | Instagram | Goodreads