Hi friends! Quickly dropping by to share with y'all the cover reveal of one of my most anticipated books for 2020 written by the uber-talented Akemi Dawn Bowman, author of William C. Morris Award Finalist Starfish, and  Summer Bird Blue. Her upcoming novel, Harley In The Sky, is slated for a March 10, 2020 release from Simon Pulse. As a member of the Harley In The Sky Street Team, I've already seen this quite a couple of times but I never get tired of gazing at it's gorgeousness. Read on to see the official cover and synopsis, revealed exclusively by Paste Magazine!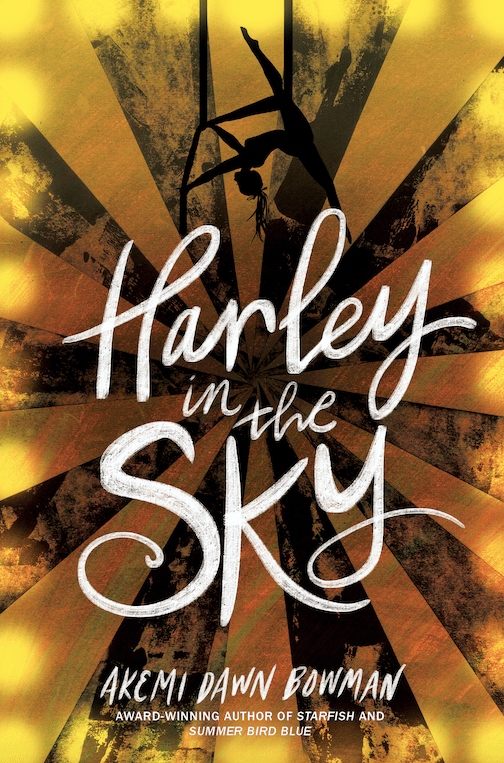 Harley In The Sky by Akemi Dawn Bowman
Genre: YA Contemporary, Realistic Fiction, Romance
Publication: March 10, 2020 by Simon Pulse
Series: None. Standalone.
Harley Milano has dreamed of being a trapeze artist for as long as she can remember. With parents who run a famous circus in Las Vegas, she spends almost every night in the big top watching their lead aerialist perform, wishing with all her soul that she could be up there herself one day.
After a huge fight with her parents, who continue to insist she go to school instead, Harley leaves home, betrays her family and joins the rival traveling circus Maison du Mystère. There, she is thrust into a world that is both brutal and beautiful, where she learns the value of hard work, passion and collaboration. But at the same time, Harley must come to terms with the truth of her family and her past—and reckon with the sacrifices she made and the people she hurt in order to follow her dreams.
Want to read the first chapter of this exciting novel?
Head on over to Paste Magazine's official cover reveal post to check it out! Told in Harley Milano's perspective, this short but impactful excerpt will no doubt get you hyped even though the book itself won't be available for nine more months!
What? You want to see what the covers of Akemi's books look like together? I gotchu!
Here are my impressions:
I love the consistency! The font looks amazing and it complements the rest of Akemi's previously released novels.
The graphic looks great. Even though one could barely make out the trapeze artist on top of the writing, it still very accurately depicts Harley Milano's story.
The black and yellow colors fit the overall feel of the cover perfectly. Although I was personally hoping for a red and/or white cover—referencing the regular colors of a circus tent—I'm still very much satisfied with this one.
TOTALLY OFF-TOPIC, I absolutely can't wait to get my hands on this!!!
Do YOU love the cover for Harley In The Sky just as much as I do? Or more? Let me know what you thought down below in the comments section!

Akemi Dawn Bowman is the author of STARFISH. She's a proud Ravenclaw and Star Wars enthusiast, who served in the US Navy for five years and has a BA in social sciences from UNLV. Originally from Las Vegas, she currently lives in England with her husband, two children, and their Pekingese mix. STARFISH will be published later this year (9/26/17, Simon Pulse/Simon & Schuster), with a second YA contemporary to follow in Fall 2018. She is represented by Penny Moore of Empire Literary.
Until the next one!
Follow me around the internet!
Facebook |  Twitter | Instagram | Goodreads