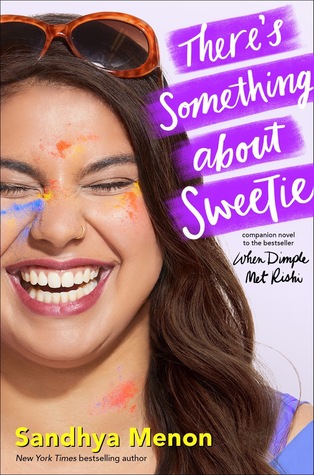 There's Something About Sweetie by Sandhya Menon
Genre: YA Contemporary, Realistic Fiction, Romance
Publication: May 14th 2019 by Simon Pulse
Series: Dimple and Rishi #2
Length: 384 pages
Format: ARC from Simon & Schuster Asia
Rating: ★★★★★
Amazon || Book Depository
Barnes & Noble
Ashish Patel didn't know love could be so…sucky. After he's dumped by his ex-girlfriend, his mojo goes AWOL. Even worse, his parents are annoyingly, smugly confident they could find him a better match. So, in a moment of weakness, Ash challenges them to set him up.
The Patels insist that Ashish date an Indian-American girl—under contract. Per subclause 1(a), he'll be taking his date on "fun" excursions like visiting the Hindu temple and his eccentric Gita Auntie. Kill him now. How is this ever going to work?
Sweetie Nair is many things: a formidable track athlete who can outrun most people in California, a loyal friend, a shower-singing champion. Oh, and she's also fat. To Sweetie's traditional parents, this last detail is the kiss of death.
Sweetie loves her parents, but she's so tired of being told she's lacking because she's fat. She decides it's time to kick off the Sassy Sweetie Project, where she'll show the world (and herself) what she's really made of.
Ashish and Sweetie both have something to prove. But with each date they realize there's an unexpected magic growing between them. Can they find their true selves without losing each other?
Trigger warnings: This book mentions a lot of sensitive stuff like body shaming, fatphobia, and unwelcome criticisms from a mother. If these topics are known triggers for you, I highly suggest that you tread carefully should you choose to read this book and/or this review.
I consider this book diverse because it's #ownvoices for Indian-American people.
Huge thanks to my friends from Simon & Schuster Asia for sending me a review copy of this title in exchange for an honest review. This did not, in any way, affect my overall opinion of the book and/or the story.
Oh my god, this book. And that's it. That's the review. I mean, I don't even know how to get this started, honestly. Yeah, sure, Sandhya Menon's one of my all-time favorite authors, and her stories are pretty much a one-of-a-kind treasure for me. But god, this just takes the cake. The fat main character representation in this shines through, and the close family and friendship dynamics featured in this makes my heart want to burst out of my rib cage. There's Something About Sweetie, hands down, is my most favorite Sandhya Menon book so far. So, please, just go ahead and check out what I have to say. (You don't have to, really. This will just be me practically crying my eyes out while trying to come up with a coherent review for this painfully and beautifully written novel.)
There's Something About Sweetie is the story of Ashish Patel and Sweetie Nair, as they slowly fall for each other after wanting to prove both of their parents wrong about something. Track and fielder Sweetie, wanted to prove to her parents, especially her mom, that she needs not be as thin as everyone else to ultimately be happy in life and find a boyfriend, while basketball star Ashish, who also happens to be the self-proclaimed black horse of the Patel family, wanted to prove to his parents that he can, even after having dated an all-American girl, still be in touch with his culture and say yes to his parents pairing him with a suitable Indian girl. Both characters have something to gain after choosing to be in a relationship, but neither of them realized in the beginning that they would defy everyone's expectations and end up together happily.
First, let's talk about the romance. Sweetie and Ashish's love story might just be the cutest most wholesome thing I have ever read about and enjoyed. The way they slowly fell for each other swept me off my feet, and every single time they went on their "four, pre-approved-by-Ashish's-parents dates" became moments that I feel like I won't be forgetting about any time soon. Even though they had their own personal things that needed to be addressed when they first agreed to date, I still grew fond of them both. And in no less than a few chapters, I knew that both Sweetie and Ashish would become some of my favorite YA characters of all-time just because of how well-rounded and relatable they were, especially Sweetie. Their chemistry, even though they were both in denial for almost a quarter of the book, was off the charts, and seeing just how compatible they were made everything swoony and believable. Honestly, Sandhya, write more stories like this one, ok? Don't ever get tired of 'em!
Next, I'd like to focus on the family and friendship dynamics featured in this story. Vidya Nair, albeit being the one who caused Sweetie so much pain for almost the entire book, will always and forever be an amazing maternal figure to me. Yes, she kept on convincing Sweetie to lose weight. Yes, she never defended her when her Tina auntie criticized and indirectly made fun of her. Yes, she limited Sweetie's clothing choices. The list goes on, really. But what I'd like to say, in her defense, is that everything she did, she did to protect and look out for her daughter. There's a certain scene in the story where she redeemed herself by revealing something rather heartbreaking about Sweetie's past and that was when I fully appreciated her as a mom. Just like Sweetie, for almost half of the book, I loathed this woman because of her incessant need to turn Sweetie into something she's not. I disliked the fact that she made it her life's work to change Sweetie just because she seemed ashamed of her. I know how that feels like, and so I couldn't help but side with Sweetie and think that her mother IS ashamed. But after knowing the whole story, I just want to give Vidya a huge hug. Parents should really take note and learn from this amazing story. And Sweetie's friends, who were supportive and caring, and kind from the very first moment I met them, made this reading experience a lot more special and memorable. Authors, just give me more stories about supportive parents and friends so I can die in peace, please.
And lastly, let me pour my heart out in talking about the amazing fat rep in this book. Okay, so the minute I turned the first page of Sweetie's chapter, I knew right then that this was going to be good and it was at that moment that I realized that this has the makings of one of the best books I'll ever read this 2019 because of the applaudable fat main character representation. And boy, did Sweetie's charming and extremely relatable story deliver! From start to finish Sweetie and her mother, Vidya, had me tearing up to full on bawling my eyes out because of the multiple number of times they had these unnecessary confrontations about Sweetie's weight and body image. It was almost always the same issue, y'all. Vidya was so, so insistent in getting Sweetie to lose weight and to see her not be able to look past that physicality every single time and make Sweetie feel bad for herself ultimately hurt. And as a fat Filipino young adult who's had to hear his father say just how lazy and incompetent he looked because of how much he weighed so many times, this meant the whole f*cking world to me. This story made me feel seen. And I can't express just how happy I felt to have read this when I did. If I could've had the chance to read this 4 or 5 years ago, then I could've avoided so many times of crying in my bed or in the bathroom. Seriously. So many readers deserve to feel the way that this book made me feel, and I can only hope that you'll allow yourself that chance.
I'm not sure if I'm making any sense to y'all, but just in case I'm not, please read this line that made me just about lose all of my shit: (Potential spoiler warning, by the way!)
"Sweetie, you are my daughter, my mol."

Sweetie heard what Amma was saying: I love you. You're everything I care about in this world.

She smiled, her eyes filling with tears. "Then please understand, Amma, that I am happy like this. I'm happy being fat. To me, 'fat' isn't a bad word. It's other people who've made it like that. It's as much a part of me as being an athlete or Indian American or a girl. I don't want to change it, and I don't want to hide it. I'm not ashamed, even if you are."
I MEAN, COME ON! HAVE A HEART! If that specific scene doesn't move you or at least make you tear up just a bit, I'm afraid to say that you might not have a heart. Sorry, I don't make the rules.
"Sandhya Menon's newest book will no doubt be an instant favorite to readers who, at some point in their lives, have felt hurt by their parents' intentions in turning them into something or someone they're not. It's an easily relatable story about being brave, falling in love with yourself when you feel like no one will, and accepting the criticisms of others and turning them into good things. I hope you'll believe me and not think I'm exaggerating when I say that this book changed my life. And I can't wait to see how Sweetie and Ashish's story changes yours."
Have YOU read There's Something About Sweetie yet? If so, then how was it for you? Let me know what you thought down below in the comments section! And if you haven't gotten yourself a copy of Sandhya's newest and be sure to do so as soon as possible and come back here to discuss!

Sandhya Menon is the New York Times bestselling author of When Dimple Met Rishi, From Twinkle, With Love, and There's Something About Sweetie. A full-time dog servant and part-time writer, she makes her home in the foggy mountains of Colorado.
You might find her online on Twitter, Instagram, or her website.
Until the next one!
Follow me around the internet!
Facebook | Twitter | Instagram | Goodreads