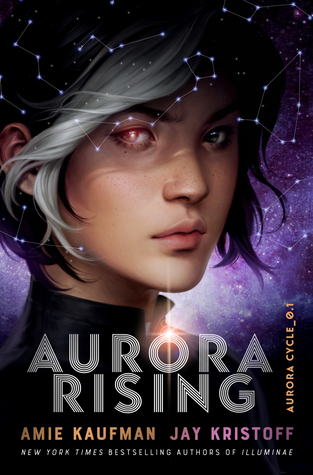 Aurora Rising by Jay Kristoff and Amie Kaufman
Genre: YA Fantasy, Science Fiction, Action, Adventure, Space
Publication: May 7th 2019 by Knopf Books for Young Readers
Series: The Aurora Cycle #1
Length: 473 pages
Format: ARC from Penguin Random House International
Rating: ★★★★★
Amazon || Book Depository
Barnes & Noble
From the internationally bestselling authors of THE ILLUMINAE FILES comes an epic new science fiction adventure.
The year is 2380, and the graduating cadets of Aurora Academy are being assigned their first missions. Star pupil Tyler Jones is ready to recruit the squad of his dreams, but his own boneheaded heroism sees him stuck with the dregs nobody else in the Academy would touch…
A cocky diplomat with a black belt in sarcasm
A sociopath scientist with a fondness for shooting her bunkmates
A smart-ass techwiz with the galaxy's biggest chip on his shoulder
An alien warrior with anger management issues
A tomboy pilot who's totally not into him, in case you were wondering
And Ty's squad isn't even his biggest problem—that'd be Aurora Jie-Lin O'Malley, the girl he's just rescued from interdimensional space. Trapped in cryo-sleep for two centuries, Auri is a girl out of time and out of her depth. But she could be the catalyst that starts a war millions of years in the making, and Tyler's squad of losers, discipline-cases and misfits might just be the last hope for the entire galaxy.
They're not the heroes we deserve. They're just the ones we could find. Nobody panic. 
Trigger warnings: This book mentions a lot of sensitive stuff like death, blood, and violence. If these topics are known triggers for you, I highly suggest that you tread carefully should you choose to read this book and/or this review.
I consider this a diverse read because it has a female, bi-racial MC, and I'd like to say that there's A+ representation for queer, disabled characters.
Huge thanks to my friends from Penguin Random House International for sending me a review copy of this title in exchange for an honest review. This did not, in any way, affect my overall opinion of the book and/or the story.
When my friends from PRH invited me to be a part of this blog tour for Jay Kristoff and Amie Kaufman's newest book, I felt uneasy to instantly say yes because 1) I have an irritating book slump that won't seem to leave me alone, 2) I wasn't entirely sure if another Sci-Fi book could help me conquer said slump, and 3) I only had less than 2 weeks to read the review copy they so generously provided. But now, I'm glad to report that as of publishing this post, my slump is finally over (DEAR LORD, PLEASE HELP ME.) thanks to this heart-pounding novel. Read on to know what my reading experience for Aurora Rising was like.
Aurora Rising follows the story of Tyler Jones, a star Alpha student of the Aurora Academy who, on the night before "the Draft" discovers a ship that houses a centuries-old survivor named Aurora Jie-Lin O'Malley. After a long, stressful night, he comes back to the academy, ending up with a crew that's less than enthusiastic to be a part of his squad, mainly because they're the ones who were left, after every other Alpha has made their choices. Tyler is left with Scarlett Jones, Tyler's fraternal twin sister, as their squad's Face, Zila Madran as their Brain, Catherine "Cat" Brannock as their Ace, Finian de Karran de Seel as their Gearhead, and Kaliis "Kal" Idraban Gilwraeth as their tank. Together, they go on an intergalactic mission to discover the mystery of Aurora O'Malley's sudden appearance, and find out what role she plays in a war millions of years in the making.
One of the many things that instantly got me hooked is the undeniable heartwarming chemistry between our ragtag group of misfits. Even though, at first, everyone was struggling to find where they would fit best, it still felt as if they were made to be a part of Squad 312. Each and every one of them had a significant role to play, and as the story progressed, I'd like to say that they slowly gotten used to each other's presence, allowing for them to later on complement each other's contributions to the team. With every turn of the page, I found myself falling more and more in love with how they functioned as a single unit. And their character developments, both as individuals and as a team, were spot on. In less than 500 pages, they managed to turn themselves into crew members who were as passionate, and dauntless, as they were determined and wise. And I enjoyed every single page of their story.
Next, let's talk about the emotions that this novel perfectly managed to pack into one book. What made me appreciate Aurora Rising all the more is the way that every now and then, there are scenes that'll get your blood pumping, ones that'll melt your heart, others that'll squeeze your eyes out and make you cry, and lastly, there are whole-ass chapters that'll have you holding on for dear life. And the way that the story transitions from one scene to the next felt flawless, and not at all forced, which I greatly appreciated. Tyler and his crew of legionnaires will take you on a roller coaster ride of emotions, and by the end of the story, you'll have no choice but to wallow in your tears and sadness like I did. Like always, Jay and Amie managed to play with my feelings and I can't believe I let them do it again. (Though if I'm being perfectly honest, I would definitely let them play with my heart all the time if they wanted to.)
Squad 312's whole story is completely reminiscent of Jay and Amie's Illuminae Files and hardcore fans for their previous series would be more than glad to know that Aurora Rising reads just like Illuminae, Gemina, and Obsidio. Even without the extra stuff like journal entries, medical statements, and other graphics, this novel still maintains the exhilarating tone and overall mood that were initially introduced in the authors' previous books. When I first got the chance to browse through my finished copy, I was a bit disheartened to find that there were significantly less graphics compared to the Illuminae Files. But, after being able to read through it, I was a little shocked to still be amazed by the story. Just goes to show that Jay Kristoff and Amie Kaufman's talents for writing transcended even the most breathtaking artworks and/or graphics. Oh, and also? The signature Kristoff-Kaufman Humor is THERE. So there's that.
"Reading Aurora Rising is a surefire way to get yourself to come out from a book slump. It definitely coerced me out of mine, and I'm elated to have been given the chance to read this in advance. Like I've said, fans of the Illuminae Files would undoubtedly adore this new book / series, and I, personally, can't wait for the next installment."
Have YOU read AURORA RISING yet? If so, then how was it for you? Let me know what you thought down below in the comments section! And if you haven't gotten yourself a copy of this action-packed Sci-Fi adventure yet, then be sure to do so as soon as possible and come back here to discuss!
And before you go, be sure to check out the other posts in the Aurora Rising Blog Tour:

Amie Kaufman is a New York Times and internationally bestselling author of young adult fiction. Her multi-award winning work is slated for publication in over 30 countries, and is in development for film and TV. Raised in Australia and occasionally Ireland, Amie has degrees in history, literature, law and conflict resolution. She lives in Melbourne with her husband, their rescue dog, and an extremely large personal library.
You can sign up for her newsletter to see what she's working on, hear when she releases a new book, and be automatically entered for giveaways.
Jay Kristoff is the #1 international, New York Times and USA Today bestselling author of THE NEVERNIGHT CHRONICLE, THE ILLUMINAE FILES and THE LOTUS WAR. He is the winner of five Aurealis Awards, an ABIA, has over half a million books in print and is published in over thirty five countries, most of which he has never visited. He is as surprised about all of this as you are. He is 6'7 and has approximately 12,000 days to live.
He does not believe in happy endings.
Until the next one!
Follow me around the internet!
Facebook |  Twitter | Instagram | Goodreads