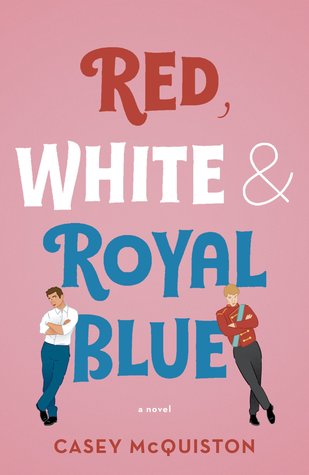 Red, White & Royal Blue by Casey McQuiston
Genre: New Adult, Romance, Contemporary Fiction, Realistic Fiction, LGBTQIA+
Publication: May 14th 2019 by St. Martin's Griffin / Wednesday Books
Series: None. Standalone.
Length: 432 pages
Format: ARC from the author
Rating: ★★★★★
Amazon || Book Depository
Barnes & Noble
A big-hearted romantic comedy in which First Son Alex falls in love with Prince Henry of Wales after an incident of international proportions forces them to pretend to be best friends…
First Son Alex Claremont-Diaz is the closest thing to a prince this side of the Atlantic. With his intrepid sister and the Veep's genius granddaughter, they're the White House Trio, a beautiful millennial marketing strategy for his mother, President Ellen Claremont. International socialite duties do have downsides—namely, when photos of a confrontation with his longtime nemesis Prince Henry at a royal wedding leak to the tabloids and threaten American/British relations.
The plan for damage control: staging a fake friendship between the First Son and the Prince. Alex is busy enough handling his mother's bloodthirsty opponents and his own political ambitions without an uptight royal slowing him down. But beneath Henry's Prince Charming veneer, there's a soft-hearted eccentric with a dry sense of humor and more than one ghost haunting him.
As President Claremont kicks off her reelection bid, Alex finds himself hurtling into a secret relationship with Henry that could derail the campaign and upend two nations. And Henry throws everything into question for Alex, an impulsive, charming guy who thought he knew everything: What is worth the sacrifice? How do you do all the good you can do? And, most importantly, how will history remember you?
Trigger warnings: There are certain scenes in this book that talks about being outed publicly without consent, substance abuse, and sexual abuse for minors. If these topics are known triggers for you, I highly suggest that you tread carefully should you choose to read this book and/or this review.
I consider this book diverse because it is #ownvoices for bisexual representation and it features queer characters falling in love.
Huge thanks to Casey McQuiston and my friends from Macmillan International for sending me a review copy of this title in exchange for an honest review. This did not, in any way, affect my overall opinion of the book and/or the story. 
The first time I heard about Casey McQuiston's debut, it was over on Twitter and I recalled me squealing at the thought of finally getting a queer, royal romance. (1. It's the superior trope, don't @ me and 2. I'm a sucker for all things m/m, so…) That was late 2017 or early 2018—I'm sorry, but my memory's failing me—and I couldn't be more thankful to have finally read it, thanks to the generosity of the author herself and the team  behind Wednesday Books. It's everything I imagined it would be and more! I read it in  less than a week and now, I kinda wish that I took my time with it, savoring every page and chapter. Seriously, you guys, this book is so, so good, and I have no doubt that lots of readers out there, whether you be an advocate for LGBTQ+ stories, or just a romance reader in general, that you'll love this too. Read on to know what I thought of this fabulous NA debut.
Red, White & Royal Blue is a new adult contemporary romance about Alex Claremont-Diaz, the First Son of the United States of America as he falls madly in love with His Royal Highness Prince Henry of Wales. A hate-to-love romance novel about queer love, politics, friendship, and what it means to have a royal duty that is equal parts heartwarmingly charming and mind-blowingly sexy, Casey McQuiston's debut NA novel will surely grip your hearts and squeeze it hard until all you can feel is love.
One of the many MANY things I adored about this novel is that it features a romance story that is wholesome and sweat-inducingly sexy at the same time. (Bear with me, I swear I can explain this concisely, ok?) I say this because Alex and Henry's love story comes from a place that is filled with love and good intentions and the way they cared and looked out for each other was delightful and I'm not sure if it's already obvious at this point, but my heart is just about ready to burst. They started off on the wrong foot back when they were younger, and as time passed, they became fake friends, paving the way for them to become passionate lovers later on. I'm not sure if that sounds plausible at all, but that's the truth. Now, you might be wondering as to how I could say this. Let me count the ways, then:
Alex and Henry's email exchanges are the absolute sweetest and I'm not sure if I've ever read anything more swoon worthy in my life.
The way they fitted in each other's families, friends and lives in general seemed perfect and from the very moment they became more than friends, it's like they were born to be together and as I'm writing this, I'M 100% SURE I'M BLUSHING.
Alex is a planner. And the way he almost re-arranged his entire life to accommodate Henry and their love for each other made me just about READY TO BURST WITH ALL THE FEELS.
Henry practically defied all the odds just to prove his love for Alex. He has the utmost respect for his family and their traditions, and so even if it almost cost him his inheritance and his entire family's love, he still went through with it, and NO I AM NOT OKAY. I AM STILL VERY EMOTIONAL.
Following up to that, I wanted to talk about the writing style and the dialogue next. Casey McQuiston's writing techniques won me over mainly because of how impressed I am with the way she created these characters and gave them their individual voices and mind spaces. At first, I was completely at a loss for words because of how well thought of these characters were but then, after reading a few more pages, it hit me—McQuiston has an innate talent for writing and it was at that point that I realized that she's one of those few writers that I know I will support up until my last dying breath. Her stories, whether or not she chooses to publish all of them, will be instant favorites for me, I'm sure. Get this: she even got me interested in politics. I mean… I haven't seen myself so invested in politics up until the moment I rooted and prayed for Ellen Claremont to win the fictional 2020 election. (Politics, at least to me, is a dirty game full of cheaters, manipulation, and crime. I've seen just how many good people turned bad because of their lust for power and glory and it was years ago that I concluded that I will never care for it so much ever again. Until this book came along. AND THAT'S A HUGE DEAL TO ME, obviously.)
Next, let's talk about Alex's relationship with his amazing sister June, adorably sexy best friend Nora, and his mom, the POTUS, Ellen Claremont. From the very first page, readers would easily find out that Alex and June are quite inseparable and that they have each other's backs no matter what happens. I love how they're always there to support one another in each and every aspects of their lives—Alex with his flings and political interests and June with her chosen career field, etc.—and I've grown quite fond of their dynamic. Nora, on the other hand, has to be one of the most interesting and is definitely one of my favorites about this whole story. The way she shows her love, and support for Alex and his family is THE PUREST THING and I couldn't get enough of her. As for Alex's mom, I have no words to describe just how much I appreciated the fact that even though she's the freakin' President of the United States of America, she was still very much present in Alex's life. She was there when Alex came out, and there's a certain scene where she said:
"I am your mother. I was your mother before I was ever the president, and I'll be your mother long after, to the day they put me in the ground and beyond this earth. You are my child…"
And I just about lost it! Even though she was busy and half the time, she was portrayed as this campaign-winnin', soul-slayin' mom-boss who would NEVER take any shit from anyone, she was always, ALWAYS, there for her children. Which obviously goes to show that the only thing that keeps parents from being present in their children's lives is… THEMSELVES. All kinds of parents have no excuses left so y'all should do better.
"Red, White & Royal Blue offered me quite a unique and memorable reading experience, one that I, undoubtedly, won't be forgetting about any time soon. No book in this universe can ever make me feel giddy the way that this book did. It puts a spotlight on a romance that is sexy and wholesome at the same time, family dynamics that will no doubt every contemporary reader would appreciate, a wonderfully diverse set of characters that were easy to root for, a plot line that's infinitely gripping, and COME ON JUST READ IT, OK? You can thank me later."
And just in case my review wasn't enough to convince you to give this book a chance, check out this aesthetic board I made inspired by Alex and Henry's love story:
Still not convinced, eh? Well then, listen to this playlist I made way back when I was trying to find the right tunes inspired by Red, White & Royal Blue:
If you ever cared for any of my book recommendations, then please believe me when I tell you that YOU NEED THIS BOOK IN YOUR LIFE. Have you read Casey McQuiston's NA debut yet? If not, then be sure to grab a copy for yourself (RUN, ok?) and come back here so we can discuss!
Casey McQuiston grew up in the swamps of Southern Louisiana, where she cultivated an abiding love for honey butter biscuits and stories with big, beating hearts. She studied journalism and worked in magazine publishing for years before returning to her first love: joyous, offbeat romantic comedies and escapist fiction. She now lives in the mountains of Fort Collins, Colorado, with a collection of caftans and her poodle mix, Pepper.
Until the next one!
Follow me around the internet!
Facebook |  Twitter | Instagram | Goodreads