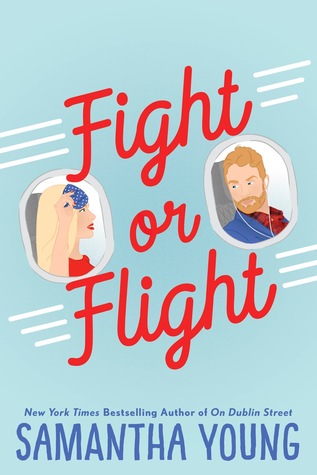 Fight or Flight by Samantha Young
Genre: Adult, Romance, Realistic Fiction
Publication: October 9th 2018 by Piatkus
Series: None. Standalone.
Length: 560 pages
Format: ARC from Berkley / Penguin Random House International
Rating: ★★★★☆
Amazon || Book Depository
Barnes & Noble
A series of chance encounters leads to a sizzling new romance from the New York Times bestselling author of the On Dublin Street series. 
The universe is conspiring against Ava Breevort. As if flying back to Phoenix to bury a childhood friend wasn't hell enough, a cloud of volcanic ash traveling from overseas delayed her flight back home to Boston. Her last ditch attempt to salvage the trip was thwarted by an arrogant Scotsman, Caleb Scott, who steals a first class seat out from under her. Then over the course of their journey home, their antagonism somehow lands them in bed for the steamiest layover Ava's ever had. And that's all it was–until Caleb shows up on her doorstep.
When pure chance pulls Ava back into Caleb's orbit, he proposes they enjoy their physical connection while he's stranded in Boston. Ava agrees, knowing her heart's in no danger since a) she barely likes Caleb and b) his existence in her life is temporary. Not long thereafter Ava realizes she's made a terrible error because as it turns out Caleb Scott isn't quite so unlikeable after all. When his stay in Boston becomes permanent, Ava must decide whether to fight her feelings for him or give into them. But even if she does decide to risk her heart on Caleb, there is no guarantee her stubborn Scot will want to risk his heart on her…
TW: This book mentions a lot of sensitive stuff like a flashback about an attempted sexual assault, domestic violence, punishment sex, abortion, and the heroine and the love interest are known to be extremely rude to one another. There are also multiple cases that the LI forgets to use protection during seuxal intercourse. If these topics are known triggers for you, I wouldn't recommend you checking out this book nor this review.
Huge thanks to my friends from Berkley Books / Penguin Random House International for sending me a review copy of this title in exchange for an honest review. This did not, in any way, affect my overall opinion of the book and/or the story.
The first time I saw Fight or Flight, it was when it's cover was first revealed on Twitter. I fell hopelessly in love with it right after without even knowing what it was about. (Romance novels have been getting fabulous covers lately, no?) And once I read it's synopsis on Goodreads, and after discovering that this was yet again a hate to love story that had so much potential to be a favorite, I knew that I somehow had to get my hands on Samantha Young's newest book. However, when I filmed a quick unboxing for it on my Instagram stories, a few of my romance-reading friends informed me that Fight or Flight is quite a problematic book, and wanted me to be cautious. They've informed me of a few aspects of the story that somehow went against the respectability of the genre which I deeply appreciated. But I still couldn't deny the giddy emotions that I felt while reading this steamy book. And at least in my opinion, the overall feel of the story certainly outweighed it's flaws. Read on to know what I thought of this sizzling contemporary.
True to it's trope, Fight or Flight is definitely a typical hate-to-love story that would sweep you off your feet. Ava Breevort, the heroine, is a 30 year old interior designer who, at first, seemed like a typical over-privileged person, but is really a courageous, strong-willed woman. While Caleb Scott, the LI, is a Scottish, brooding 35 year old CFO of a big time Tech company initially stationed in the UK. These two characters meet serendipitously during a delayed flight from Chicago to Boston, and while they were getting on each other's nerves, little did they know that they would soon be falling in love (hard) for each other.
Those who informed me about this book's vexed weaknesses mentioned that Fight or Flight has a very complicated set of main characters—not to mention a horrendously rude love interest. Right from the start, it was apparent that there is something quite off about Caleb Scott. I, personally, couldn't quite point it out, but I guess I have to agree with everyone who says that he is brutish and extremely ill-mannered. To some, it might just pass as cranky or easily irritable but there are a few who've told me that it's generally about the white male privilege, which I totally understood. But Caleb has certain qualities that I found quite redeeming, especially during the second part of the book and so I find that it might be hard to like him at first, but he's not a bad guy overall. He's made mistakes in the past, and I'd like to think that he'd learned from it and so he disguises himself as closed, impolite, and very well guarded. And the same goes for Ava, she's a magnificent woman who is full of hopes and dreams and she aspires to be successful, just as any woman should. At first, she seemed like a vain, high-maintenance type of woman who cared only for superficial things. She cared so much about her image and other people's perception of her, but once I've gotten to know her more, I've learned that there's so much to love about her.
As the story progresses, both Ava and Caleb, at least in my eyes, turn into these complex but very interesting characters that I've come to root for in the end. Individually, they've become such amazing people and to say that they've got good chemistry together feels like an oversimplification. I won't be capable of loving this book as much as I am now without the leads as well as the tension, and angst that they almost always shared towards one another. Obviously, they've found a way around not liking one another during the first half of the story, and to see them fall into a routine that worked best for the both of them gave me a sense of satisfaction that surprised me. However, it only did it's purpose for a time because as Ava slowly realized that she's slowly falling for Caleb, their agreement gets compromised and she is forced into a dangerous situation that gave Caleb the power to hurt her terribly. And seeing Ava navigate through such menacing territories certainly heightened my reading experience, one that I'd like to think I haven't had with other romance books I've read in the past.
Now, if I've been very unpersuasive of my review thus far, let me put my thoughts into lists. Listed below are 5 reasons why you should give this book a chance:
It has a story line that feels fresh and unique.
The story's heroine is a strong-willed woman with a dark past.
Heroine is partnered with a successful, bearded (!) love interest who's brutish but is fully capable of loving.
Lead characters engage themselves in a wild, and steamy (!!!) romance.
In the story's background is a well-grounded set of minor characters who didn't feel like props and fully deserve individual stories of their own.
Ultimately, it has a charming writing technique, coupled with flawless transitioning, and blissful pacing
But also, if you're wary of the following "issues" below, I'd suggest that you check out other reviews before grabbing a copy of this book for yourself:
Caleb Scott is a hit-or-miss for so many readers. Lots of other reviewers have called him extremely entitled because of the way he acts, especially towards those who are working in the service industry and thinks that he can always get away with everything.
Sexual assault and abortion are topics that are unfortunately deemed quite relevant to the back stories of our lead characters.
There's also a certain scene found within the second half of the story that showcases domestic abuse / violence and the story revolved around that bit for quite a few chapters.
Following up to the LI being a neanderthal, there are multiple cases that he forgets to bring / or use a condom before engaging in sexual intercourse. (There have been reviews mentioning that he commits sexual assault by not wearing protection after the heroine explicitly asks him to but I personally didn't witness that. It might just be me, though! I might have a different perception of the story.)
Also, here's an aesthetic board that I made that's inspired by Ava and Caleb's story in Fight or Flight:

Have YOU read this book yet? If not, what other books by Samantha Young have you read? What did you think of it? And if you haven't read this yet, be sure to grab a copy from your local book store and start reading it! Once you do, let me know what you think of it down below in the comments section!

Samantha Young is the New York Times, USA Today and Wall Street Journal bestselling author of adult contemporary romances, including the On Dublin Street series and Hero, as well as the New Adult duology Into the Deep and Out of the Shallows. Fight or Flight, a new standalone to be published by Berkley Romance, is out October 9th 2018.
Before turning to contemporary fiction, she wrote several young adult paranormal and fantasy series, including the amazon bestselling Tale of Lunarmorte trilogy. Samantha's YA contemporary novels The Impossible Vastness of Us and The Fragile Ordinary are published by Harlequin Teen.
Her next adult contemporary romance As Dust Dances releases August 7th 2018. It follows the story of homeless ex-poprock star Skylar Finch and the ambitious Scottish A&R Exec Killian O'Dea who shakes up life as she knows it.

Until the next one!
Follow me around the internet!