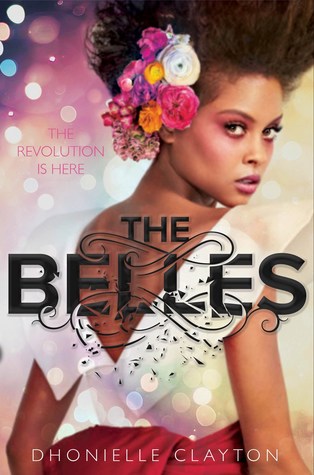 The Belles by Dhonielle Clayton
Genre: YA Fantasy, Magic
Publication: February 6th 2018 by Disney-Hyperion
Series: The Belles #1
Length: 440 pages
Format: Finished copy from publisher
Rating: ★★★★.5
Camellia Beauregard is a Belle. In the opulent world of Orléans, Belles are revered, for they control Beauty, and Beauty is a commodity coveted above all else. In Orléans, the people are born gray, they are born damned, and only with the help of a Belle and her talents can they transform and be made beautiful.
But it's not enough for Camellia to be just a Belle. She wants to be the favorite—the Belle chosen by the Queen of Orléans to live in the royal palace, to tend to the royal family and their court, to be recognized as the most talented Belle in the land. But once Camellia and her Belle sisters arrive at court, it becomes clear that being the favorite is not everything she always dreamed it would be. Behind the gilded palace walls live dark secrets, and Camellia soon learns that the very essence of her existence is a lie—that her powers are far greater, and could be more dangerous, than she ever imagined. And when the queen asks Camellia to risk her own life and help the ailing princess by using Belle powers in unintended ways, Camellia now faces an impossible decision.
With the future of Orléans and its people at stake, Camellia must decide—save herself and her sisters and the way of the Belles—or resuscitate the princess, risk her own life, and change the ways of her world forever.
Huge thanks to my friends from Disney-Hyperion / Hachette Book Group for sending me a finished copy of this title in exchange for an honest review. This did not, in any way, affect my overall opinion of the book and/or the story.
When I received a finished copy of The Belles in the mail a few months ago, I was beyond excited to be given the chance to read and review Camellia's story. I've grown fond of how well-loved Dhonielle Clayton's newest book was online, and I wanted in on the bandwagon. I was expecting a lush story that features a strong cast of characters, an intricately written plot line, a heartfelt family dynamic between the sister Belles, a romance that could hopefully complement the story, and a badass main character. Well, guess what? I was met with all of these things, along with a reading experience that's undoubtedly unforgettable. Read on to know my thoughts on this gorgeous story.
Passionate, fierce, ambitious, and dauntless Camellia Beauregard
Getting to know Camille as the main character of this book brought me so much joy and inspiration. It's been a long time since I last met a fictional character that showcased an equal balance of ambitiousness and bravery, and so she easily became one of the main reasons as to why I really enjoyed The Belles. In the beginning, Camille's only dream was to become the favorite, the one desired by the royal family to serve and keep them beautiful and adored by the public. She focused on her dream so hard, it left a mark on her relationship with her sisters. She was hell-bent in attaining this, and for someone who considers himself an unrealistic dreamer, I easily related to Camille and wanted for her to succeed. And to see her undergo such an impressive development made me so happy. I wanted to love her so much and I'm extremely satisfied to report that she would not disappoint those who are in search for a heroine who can more than stand her ground and (almost) always choose to do the right thing.
Writing style that's as breathtaking as the World of Orléans
Another aspect of the story that I loved the most was the alluring writing style and the enthralling world building. Although at times, the pacing was undeniably slow, and some scenes felt a little too repetitive, the writing style was still so very impressive and it most certainly brought out the best in the characters and the setting. I love how well-planned out the overall story was, and the author certainly had an impressive talent for telling a good story. Again, I loved the writing very much, enough for me to disregard the pacing that sometimes threw me off.
Also, the world building was so opulent, and vibrant and it most definitely made Orléans one of the most memorable fictional places I've ever come to read about. I love how luxurious and classy every setting, every tea house felt, albeit being covered in mystery most of the time. The different Isles intrigued me, making me want more from the story. Hopefully, we get more out of the Kingdom in the sequel because the Gods above know just how intrigued and very well invested I am with this world.
Unique and Fascinating Beauty-Magic System
I was fascinated by the exchange system that the world of Orléans have when it comes to availing the services of the Belles. I was in awe to witness just how well-established everything was, from the acquisition of beauty tokens, to the individual courtier appointments that most of the characters afforded. I was also intrigued by the possibility of being able to alter one's appearance, manner, and age through the powerful arcana that the Belles possessed, and for sometime, I, too, felt the need to change something about myself. I was curious to know how many beauty tokens or how much spintria I had to spend just to be deemed beautiful by modern society. But then again, that's just a thought. All I have to say about this Beauty-Magic system was that it most definitely intrigued me in so many ways.
"The Belles is an amazing novel that started off an exciting series that's filled with potential. It's written beautifully, accompanied by a strong, and influential main character, a cause that aims to start a revolution, and endless twists in every chapter. It gripped my heart right from the start, and held it tightly all throughout the story. I was impressed by how dark this book portrayed the lengths that one can and will go to to maintain one's beauty, and ultimately, I adored reading every page of this riveting book. I'm no doubt looking forward to reading The Evarlasting Rose next year!"
Have YOU read The Belles yet? If not, be sure to grab a copy from your local book store and start reading it! And once you do, let me know what you think of it down below in the comments section!
Dhonielle Clayton is the co-author of the Tiny Pretty Things series. She grew up in the Washington, DC suburbs on the Maryland side and spent most of her time under her grandmother's table with a stack of books. A former teacher and middle school librarian, Dhonielle is co-founder of CAKE Literary—a creative development company whipping up decidedly diverse books for a wide array of readers—and COO of the non-profit, We Need Diverse Books. She's got a serious travel bug and loves spending time outside of the USA, but makes her home in New York City, where she can most likely be found hunting for the best slice of pizza.
You may find her on Twitter, Goodreads, and on her website.
Until the next one!
Follow me around the internet!