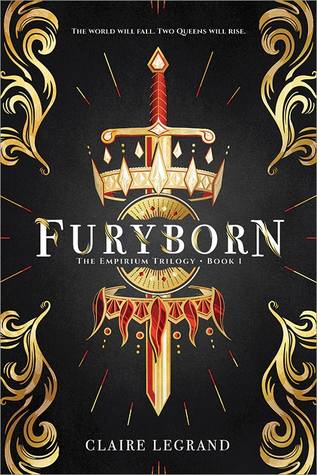 Furyborn by Claire Legrand
Genre: YA Fantasy, Action, Adventure, Magic
Publication: May 22nd 2018 by Sourcebooks Fire
Series: Yes. Empirium Trilogy #1.
Length: 512 pages
Format: ARC from Sourcebooks Fire
Rating: ★★★★.5
Follows two fiercely independent young women, centuries apart, who hold the power to save their world…or doom it.
When assassins ambush her best friend, the crown prince, Rielle Dardenne risks everything to save him, exposing her ability to perform all seven kinds of elemental magic. The only people who should possess this extraordinary power are a pair of prophesied queens: a queen of light and salvation and a queen of blood and destruction. To prove she is the Sun Queen, Rielle must endure seven trials to test her magic. If she fails, she will be executed…unless the trials kill her first.
A thousand years later, the legend of Queen Rielle is a mere fairy tale to bounty hunter Eliana Ferracora. When the Undying Empire conquered her kingdom, she embraced violence to keep her family alive. Now, she believes herself untouchable–until her mother vanishes without a trace, along with countless other women in their city. To find her, Eliana joins a rebel captain on a dangerous mission and discovers that the evil at the heart of the empire is more terrible than she ever imagined.
As Rielle and Eliana fight in a cosmic war that spans millennia, their stories intersect, and the shocking connections between them ultimately determine the fate of their world–and of each other.
Huge thanks to Victoria Marini / Sourcebooks Fire for sending me a review copy of this title in exchange for an honest review. This did not, in any way, affect my overall opinion of the book and/or the story.
Back when I first saw Claire and the Sourcebooks team unveil the final cover for Furyborn, I was completely at a loss for words! I thought that it was gorgeous, and I absolutely adored the book's aesthetic. After thoroughly researching about the title, and after reading tons of reviews about it, I knew that I had to somehow read and feature such an amazing story. Unfortunately, I was declined both by NetGalley AND Edelweiss for an e-copy so I had to resort to different ways to get in touch with the author or the publisher for a review opportunity. Way back January, I joined Claire's international giveaway for a review copy and I was extremely honored to be contacted by Claire's agent, Victoria, offering a galley in exchange for me giving insightful comments about the book. Now, I'm very much elated to be doing just that.
Amazing Prologue & Introduction
First things first. The story's prologue had me so undoubtedly fascinated and it definitely raised such a high tone and standard that was well-maintained all throughout the story. The book starts off with an impeccably important scene and so this enables it's readers to be vigilant and be on high alert since they would know what would inevitably happen in the end. What made this so interesting for me was that as every chapter came to an end, most of the plot holes that were established in the beginning were then filled, leading up to an ending that's well thought of, and is also intensely gripping. With every turn of the page, I felt like the story was so well-connected, and so I can't help but be impressed as I finished reading it. I know, though, that this might not be the case for others since I've also seen other reviews. But then again, all reading experiences are unique, right?
Impressive World Building & Writing Style
Another aspect that made me so undeniably impressed with this novel was it's ornate writing style and the massively vivid world building. From the prologue down to the very last chapter, Rielle and Eliana's story was so gripping, it allowed for me to enjoy Furyborn in all it's breathtaking glory. I loved the idea of the story spanning a millennium, and the fact that the story's transitioning from the past to the present was as flawless as I hoped it would be made me love this all the more. The only thing that I had a small problem about this was that since the writing was so complicated, it sometimes made the story a little incomprehensible and confusing for me. The pacing was also a little off, especially since I had to back track most with most of the scenes if I wanted to fully understand what was happening. But obviously, that's just me. This might be perfect for others but to each his own.
Slow-burn Romance
Lastly, I also liked how the subtle, slow-burn romance amplified the story rather than overshadowing it's actual plot. In the past, most of the YA fantasy books I've read relied heavily on romance being a big part of the story, making it almost a central part of the plot. In Furyborn, that's surely NOT the case. The romance aspect of the story was almost non-existent until after reading at least halfway of the book, and to be honest? I loved it just as it was. I like how this aspect helped further develop the characters with such speed, and it was both fun and intriguing to see Rielle and Eliana go through such compromising situations just to let out their true selves.
"In conclusion, Claire Legrand's latest book offers an intricately-written story focusing on two, outstandingly well-developed women set in a vividly imagined world filled with political intrigue, enchantment, and deception. It features a strong, and diverse set of characters, and a magic system that's as striking and fascinating as any typical YA fantasy story. There's no doubt that Furyborn has the ability to give it's readers a unique experience that's undeniably captivating in every conceivable way."
Have YOU had the chance to read Furyborn yet? If you haven't yet, be sure to grab a copy and read it once it's out on May 22nd! And once you do, let me know what you think down below!
Claire Legrand used to be a musician until she realized she couldn't stop thinking about the stories in her head. A native Texan, she is now a writer and librarian living in central New Jersey.
Her first novel is THE CAVENDISH HOME FOR BOYS AND GIRLS, one of the New York Public Library's 100 Titles for Reading and Sharing in 2012. She is also the author of THE YEAR OF SHADOWS, a ghost story for middle grade readers, WINTERSPELL, a young adult re-telling of The Nutcracker, and SOME KIND OF HAPPINESS, a middle grade story about mental illness, family secrets, and the power of storytelling. SOME KIND OF HAPPINESS is a 2017 Edgar Award nominee and one of Publishers Weekly's Best Books of 2016. Her latest novel, FOXHEART, is a fast-paced fantasy-adventure and a 2016 Junior Library Guild selection. She is also one of the four authors behind THE CABINET OF CURIOSITIES, an anthology of dark middle grade short fiction that was a Junior Library Guild selection, a Bank Street Best Book, and among the New York Public Library's 100 Titles for Reading and Sharing in 2014.
Coming up for Claire is FURYBORN, the first book in the Empirium trilogy, due out May 22, 2018, followed by SAWKILL GIRLS in fall 2018, and THORNLIGHT, a companion novel to FOXHEART, coming in winter 2019.
Until the next one!
Follow me around the internet!