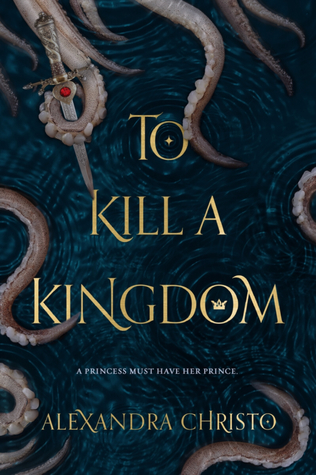 To Kill a Kingdom by Alexandra Christo
Genre: YA Fantasy, Fiction, Retelling, Romance, Action, Adventure
Publication: March 6th 2018 by Feiwel & Friends
Series: None. Standalone.
Length: 342 pages
Format: ARC from Fierce Reads
Rating: ★★★★★
Princess Lira is siren royalty and the most lethal of them all. With the hearts of seventeen princes in her collection, she is revered across the sea. Until a twist of fate forces her to kill one of her own. To punish her daughter, the Sea Queen transforms Lira into the one thing they loathe most—a human. Robbed of her song, Lira has until the winter solstice to deliver Prince Elian's heart to the Sea Queen or remain a human forever.
The ocean is the only place Prince Elian calls home, even though he is heir to the most powerful kingdom in the world. Hunting sirens is more than an unsavory hobby—it's his calling. When he rescues a drowning woman in the ocean, she's more than what she appears. She promises to help him find the key to destroying all of sirenkind for good—But can he trust her? And just how many deals will Elian have to barter to eliminate mankind's greatest enemy?
Huge thanks to my friends from Fierce Reads for sending me a review copy of this title in exchange for an honest review. This did not, in any way, affect my overall opinion of the book and/or the story.
Ever since it made it's online presence known, I've been so very intrigued with Allie Christo's debut. The Little Mermaid happens to be one of my most favorite Disney fairy tales, and I would've given anything to read a retelling of that story, one that might have a darker twist to it. Now, thanks to authors like Allie, my dream has finally materialized! Now, I managed to get my hands on a review copy for months now, but only gotten around to start reading it a couple of weeks ago, and I'm so, so glad to have read it! Now, here are 5 reasons why YOU should read To Kill A Kingdom.
Number 1 – Allie Christo writes beautifully.
The writing style and world building almost always has to be interestingly gripping in order for me to at least like a book. In this case, I was utterly in love with how the author wrote the story. Told in alternating points of view, readers could easily get to know the story's main characters because they get several glimpses into Lira and Elian's headspaces. The author has a talent for choreographing scenes that are not just entertaining, but are also very engaging. I found myself grinning, laughing and swooning out loud all throughout this book and I enjoyed every single scene.
Number 2 – The author's way of building several kingdoms, whether they be a part of the land, or a part of the ocean, were incredibly vivid.
The world building was also equally impressive. I love how each kingdom that the characters visited all had distinguishing features, and I, as a reader, had a fairly easy time identifying the settings because they were very easy to identify due to these characteristics. It also helped that the royalty of each kingdom had their own unique traits, and it added to my overall enjoyment of the novel. If you were to ask me what kingdoms were my favorite, I'd say it would be Midas, Pagos, and the Diavolos Sea.
Number 3 – Readers will be glad to know that Allie Christo's take on a Siren story isn't at all like any other. It's a lot darker, and ultimately more thrilling.
I've read enough reviews of other books about mermaids and sirens to know that a lot of readers won't even give this book a chance for fear of being disappointed by yet another unsatisfying Siren story. Now, ladies and gentlemen, I'm here to let you know that To Kill A Kingdom isn't just your typical Little Mermaid retelling. Again, it's made a lot darker and the way it engages and grips readers to an experience that's entirely unique in it's own way is something that I have to commend. I promise you that this book is worth more than the hype that it's currently getting.
Number 4 – I lived for the slow burn romance, the undeniable chemistry, and the witty and seductive banter between Lira and Elian.
Even though the romance aspect of this story wasn't quite evident until the last quarter of the story, I still very much enjoyed it all the same. Knowing that this was a fantasy story that re-tells The Little Mermaid, I already expected for subtle hints of swoon and romance. I knew that it was going to be a part of the story and so I just expected it right from the start. But to see these characters deny the possibility of insta-love and instead engage in a slow-burn romance just elicited so much satisfaction out of me. I love how every single thing that happened to these characters all contributed to make them such a well-bonded pair and in the end, I rooted so hard for these characters more than I expected to.
Number 5 – The audiobook program for this was FANTASTIC and it made my reading experience a lot more unique and memorable.
Jacob York, and Stephanie Willis' narration for the audiobook program was superb! I loved it whenever Stephanie read The Sea Queen's dialogues, basically because I was almost always terrified to hear her speak. I loved how believable these narrators were, and I loved everything about the program. Also, if you're a slow reader and would much rather listen to the story, you should definitely give this one a chance. The eloquence of these two narrators certainly played a huge role in me adoring this story since I mostly listened to it rather than reading my physical review copy.
"To Kill A Kingdom is an underrated gem of a book. It's a dark reimagining of a timeless fairytale and it most definitely breathes life into leads that readers will no doubt root for from the start. It offers an action-packed adventure towards bringing peace with amazingly brave characters at the front and center of the story. With a plot that's as seductive as a siren's song, a writing style that's just as beautiful and enthralling as any siren, and the theme of proving the lengths that one, whether they be human or not, would go to to survive, Alexandra Christo's debut would no doubt be an easy fan favorite."
Have YOU had the chance to read To Kill A Kingdom yet? What are your thoughts? Share them with me via the comments section below! And if you haven't yet, be sure to grab a copy and read Lira & Elian's story!
Alexandra Christo decided to write books when she was four and her teacher told her she couldn't be a fairy. She has a BA in Creative Writing and works as a copywriter in London, both of which make her sound more grown up than she feels. When she's not busy making up stories, she can be found buying far too many cushions and organizing food crawls all over the city.
Alexandra currently lives in Hertfordshire with an abundance of cacti (because they're the only plants she can keep alive).
Until the next one!
Follow me around the internet!