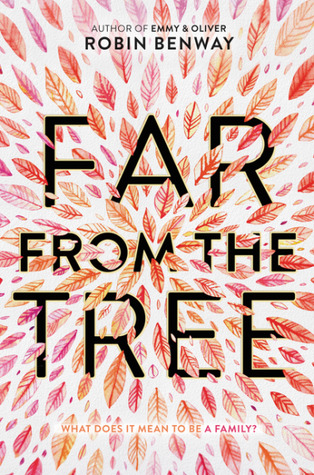 Far from the Tree by Robin Benway
Genre: YA Contemporary, Coming of Age, Realistic Fiction
Publication: October 3rd 2017 from HarperTeen
Series: None. Standalone.
Length: 384 pages
Format: eARC from HarperCollins International / Hardcover
Rating: ★★★★★
A contemporary novel about three adopted siblings who find each other at just the right moment.
Being the middle child has its ups and downs.
But for Grace, an only child who was adopted at birth, discovering that she is a middle child is a different ride altogether. After putting her own baby up for adoption, she goes looking for her biological family, including—
Maya, her loudmouthed younger bio sister, who has a lot to say about their newfound family ties. Having grown up the snarky brunette in a house full of chipper redheads, she's quick to search for traces of herself among these not-quite-strangers. And when her adopted family's long-buried problems begin to explode to the surface, Maya can't help but wonder where exactly it is that she belongs.
And Joaquin, their stoic older bio brother, who has no interest in bonding over their shared biological mother. After seventeen years in the foster care system, he's learned that there are no heroes, and secrets and fears are best kept close to the vest, where they can't hurt anyone but him.
Huge thanks to my friends from HarperCollins International for approving an e-ARC of this title for me in exchange for an honest review. This did not, in any way, affect my overall opinion of the book and/or the story.
When I first saw the cover for Robin Benway's Far From The Tree, I was already amazed by how simple yet utterly gorgeous it looked. It reminded me of The Sun Is Also A Star by Nicola Yoon (and we all know how much I adored that book, right?) and it made me intrigued and curious, and that's what made me put the title in my TBR. Towards the end of 2017, Far From The Tree won the National Book Award for Young People's Literature and this all the more made me excited to read it. This is the very first book that I read this 2018, and it happens to be the best decision I've made so far this year.
First off, I love how unique this story is, and I'm extremely moved by the fact that this book easily represents those who are in foster care. All my life, I've never come across a book that tells the story of three siblings that were all given up for adoption, only to be brought together in the end. And now that we have books like Far From The Tree, I feel elated by the fact that those who are adopted or are in foster care can finally see themselves in a book. Their voices can now finally be heard, and I can't wait for them to read this, and I can't wait to see the looks on their faces once they do. I can only hope that this story could somehow make them feel wanted and loved, even if they went through several hardships in the past.
The straightforward, yet emotionally heartfelt writing style with which this story is written is one of the many things that I loved about Far From The Tree. From start to finish, I absolutely loved being in the headspace of our main characters, Grace, Maya, and Joaquin. I'm utterly impressed by the fact that they all had their distinct voices and characteristics, and I like how I can easily identify them just by the tone of the chapter, even if it's told from a third person point of view. This also helped make the story a lot more fast-paced, and I just adore stories that are easy to comprehend, and yet are still capable of packing a huge punch to the heart. I love how this book took me on a wild emotional roller coaster, and I will never trade my reading experience for this for anything.
And lastly, the character development that the 3 siblings went through is also noteworthy, and I loved getting to know each of them, and their own families. At first, of course, readers are introduced to flawed characters that I couldn't help but admire. Grace, Maya, and Joaquin all went through horrible experiences in the past, one way or another, and I have to admit that this was one of the reasons as to why it was extremely easy for me to root for them individually. I tried very hard to pick a favorite out of the three siblings to highlight here in my review, but I just can't. Personally, I love how brave, and selfless Grace was in making her decision of giving up her Peach for adoption. And I love how free-spirited, and confident Maya always is, most especially in compromising situations. And lastly, I cannot help but admire Joaquin's compassionate, and caring heart, especially towards those who he hold close to his heart. And if that doesn't prove to you how much I love these characters, then I don't know what will.
"We only get one chance to start the new year with a book that's supposed to make a lasting impression that could hopefully set a reader's standards, and I am very much delighted to have chosen Far From The Tree to be my first read of 2018. All throughout the book, I found myself extremely invested with Grace, Maya, and Joaquin's story. All of them were easy to root for, and it definitely helped that all of them had distinct voices, and it's also fast-paced. And that, partnered with a great writing style, and a plot line that will tug on everyone's heartstrings, makes this a truly, one-of-a-kind novel. Definitely deserving of all the awards and recognition it has already received!"
Have YOU had the chance to read Far From The Tree yet? What are your thoughts? Share them with me via the comments section below! And if you haven't yet, be sure to grab a copy and read Grace, Maya, and Joaquin's story!
Robin Benway is a National Book Award-winning and New York Times-bestselling author of six novels for young adults, including Audrey, Wait!, the AKA series, and Emmy & Oliver. Her books have received numerous awards and recognition, including a 2008 Blue Ribbon Award from the Bulletin for the Center of Children's Books, 2009's ALA Best Books for Young Adults, and 2014's ALA Popular Paperbacks for Young Adults. In addition, her novels have received starred reviews from Kirkus, Booklist, and Publishers Weekly, and have been published in more than twenty countries. Her newest book, Far From the Tree, won the 2017 National Book Award for Young People's Literature and was published by Harper Teen on October 3, 2017.
Robin grew up in Orange County, California, attended NYU, where she was the 1997 recipient of the Seth Barkas Prize for Creative Writing, and is a graduate of UCLA. She currently lives in Los Angeles, where she spends her time hanging out with her dog, Hudson, making coffee, and procrastinating on writing.
Until the next one!
Follow me around the internet!