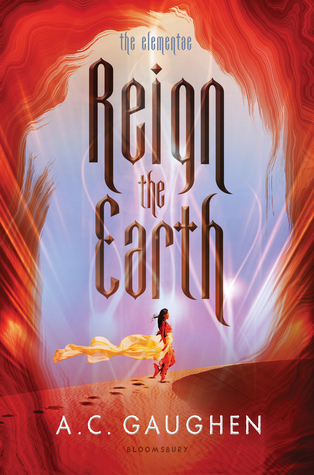 Reign the Earth by A.C. Gaughen
Genre: YA Fantasy, Action, Adventure, Fiction
Publication: January 30th 2018 from Bloomsbury
Series: The Elementae #1
Length: 448 pages
Format: ARC from publisher
Rating: ★★★★★
Shalia is a proud daughter of the desert, but after years of devastating war with the adjoining kingdom, her people are desperate for peace. Willing to trade her freedom to ensure the safety of her family, Shalia becomes Queen of the Bonelands.
But she soon learns that her husband, Calix, is motivated only by his desire to exterminate the Elementae—mystical people who can control earth, wind, air, and fire. Even more unsettling are Shalia's feelings for her husband's brother, which unleash a power over the earth she never knew she possessed—a power that could get her killed. As rumors of a rebellion against Calix spread, Shalia must choose between the last chance for peace and her own future as an Elementae.
This intense, richly drawn high-fantasy by the author of Scarletwill hold readers spellbound.
Huge thanks to my friends from Bloomsbury Publishing for sending me a review copy of this title in exchange for an honest review, for inviting me to become a member of the author's street team, and lastly for inviting me to be a part of their blog tour. This did not, in any way, affect my overall opinion of the book and/or the story.
A couple of months ago, I was so thrilled to find an email from Bloomsbury inviting me to be a part of A.C. Gaughen's Reign The Earth street team (Well, yeah, I signed up to be a part of it, but to actually be chosen? I did not see that one coming!) Just last week, I was able to read the book, and I tremendously loved everything about it! It's filled with all things that I look for in a fantasy novel from well-developed characters, to vivid world building, there's honestly much to love about this one. Read on for my detailed review.
I found the author's writing style in Reign The Earth to be impressive, and I loved that the story was told in a first person perspective. It really didn't take me long to be gripped by the writing, and in under 50 pages, I was completely invested with the story. Also, the fact that Shalia's a character who was very easy to root for made me love the story even more. What I'm basically trying to say is that I loved being in Shalia's headspace, and I'll be counting down the days until we meet again for book 2. And as for the POV, I guess I just got well accustomed to the idea of fantasy novels being written in a 3rd person perspective, and so I was really surprised to adore this as much as I did.
Elaborating on the author's impressive writing, I also loved her world building in Reign The Earth. I felt like  all the settings were well developed, and the way they were introduced to the readers was so vivid, and it made everything much more evocative in my opinion. Part of why I love this book so much is because of how much I enjoyed being taken to the different cities in the book, and I find that there's much to love about them all. Seeing how much the environment changed made me feel like I was actually a part of the story, and I love how engaging everything felt overall.
And the last thing that I wanted to highlight is the amazing cast of characters whose story I massively enjoyed and craved more of towards the end of the book. Shalia's an amazing main character, I think we've more than established that. But the same goes for the other characters like Calix, Galen, Danae, Kairos, Rian, Kata, and the list literally goes on. I love how easy it all was to adore them, even the villain. In my opinion, they were all well-developed in their own way, and I can't help but crave for more background story for them, especially the Three-Faced God siblings Calix, Galen, and Danae. I feel like there's so much to their character than what was initially told in this first book, and so that just makes me more excited to read the next book in the series.
"Reign The Earth is surely a fantastic and moving story that's perfect to start the new year. And with a distinct voice, and a passionate heart, Shalia's thrilling, heartfelt, and action-packed story offers such an alluring reading experience perfect for fans of Sabaa Tahir and Sarah J. Maas. Filled with gripping action scenes in every turn of the page, partnered with an impressive writing style, a blissful pacing, and a great roster of easy-to-root-for characters, A.C. Gaughen's latest novel will no doubt be an instant favorite for those bibliophiles looking for an intense yet enjoyable action adventure."
Who would YOU reign the Earth with?
Personally, if given the chance to reign the Earth with someone, I'd love to do it with Ellen DeGeneres. She has this blissful way of spreading joy and laughter wherever she goes, and I love the idea of using a huge platform to help notice and help those who are in need. This sounds extremely cliché, I know, but it's true. The way Ellen uses her show to disperse positive vibes all around amazes me so much that I truly wish that I could someday, somehow, be as successful as her just to be able to spread cheer anywhere. Just imagine: working hand in hand with someone as influential as Ellen to reign the Earth? It's gonna be ICONIC. I mean, I'm just sayin'.
And have YOU read Reign The Earth yet? If not, be sure to check out once it's out on January 30th! And once you do, let me know what you think of it down below in the comments section!
And if you're looking to find more reviews from other lovely bloggers, check out the rest of the blog tour schedule below and be sure to leave some love on their posts!
For those of you who live in the US or Canada, y'all have a chance to win one (1) signed copy of Reign The Earth by A.C. Gaughen! Click on this link to be redirected to the Rafflecopter giveaway widget, and be sure to follow the steps indicated there.
A. C. GAUGHEN is the author of the Scarlet Trilogy (Scarlet, Lady Thief and Lion Heart) and the Elementae, which will start with REIGN THE EARTH in January 2018. She serves on the board for the non-profit Boston GLOW, creating opportunities to encourage and engage teen girls in the Greater Boston area. She has a Masters in Creative Writing from St. Andrews University in Scotland and a Masters in Education from Harvard University.
You may find her online via her website, Twitter, and Instagram.
Until the next one!
Follow me around the internet!