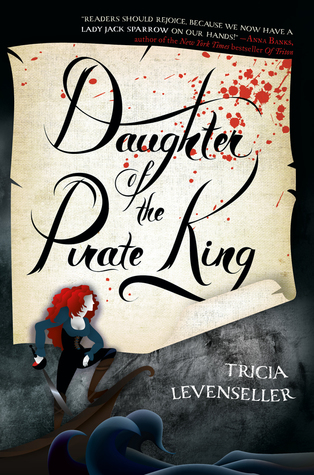 Daughter of The Pirate King by Tricia Levenseller
Genre: YA Fantasy, Action, Adventure, Pirates
Publication: February 28th 2017 by Feiwel & Friends / Macmillan USA
Series: Yes. Daughter of The Pirate King #1.
Length: 308 pages
Format: Hardcover
Rating: ★★★★☆
There will be plenty of time for me to beat him soundly once I've gotten what I came for.
Sent on a mission to retrieve an ancient hidden map—the key to a legendary treasure trove—seventeen-year-old pirate captain Alosa deliberately allows herself to be captured by her enemies, giving her the perfect opportunity to search their ship.
More than a match for the ruthless pirate crew, Alosa has only one thing standing between her and the map: her captor, the unexpectedly clever and unfairly attractive first mate, Riden. But not to worry, for Alosa has a few tricks up her sleeve, and no lone pirate can stop the Daughter of the Pirate King.
Back when it was released, I've already had my eyes set on reading Daughter of The Pirate King. Without knowing much about it, I felt like it's the kind of YA Fantasy book that I'd love: one with a good plot, a great and relevant theme, and, from what I've heard from my friends online, a stunning main character who's strong, bold, and valiant. And I can't believe it took me 10 months before I read it. (But then again, at least we're only months away until the release of the sequel, right?) Read on for my review of Tricia Levenseller's debut novel.
It didn't really take me long before I fell in love with Alosa, and her journey. From the very first chapter, I was easily allured by the story's main character, and I constantly found myself completely wrapped up in her story. One of the main reasons as to why I couldn't put this book down was because I wanted to see her plans through, and I wanted her to be as successful as she hoped she would be. Alosa is, as many of my friends have already mentioned, a strong, independent, and courageously valiant woman worthy being called a pirate (or a captain, whatever floats your boat).
I also liked the variety of men / crew in the Night Farer and even after the story ended, I realized that I'm craving more background story behind some of them most especially Draxen and Riden, and Enwen. Yes, they stood in the way of Alosa and her scheme one too many times, but what I loved most about these men is their determination and perseverance in doing what they think is most beneficial for them and their crew. I found their attributes to be accurately depicted for pirates, and other than their wits, and their manly (stinky) odor, I feel like they'll easily be recognized as pirates, thanks to the author's imagination and creativity.
The sole reason as to why I can't give this book a full 5 stars is because of two reasons:
I felt like the romance between Alosa and Riden started a little too early for my taste, and that somehow made me come up with a mindset that it was almost a form of insta-love (even if the loathing that they felt for each other was extremely evident from the start). Towards the ending, however, I did enjoy their tandem and this allowed me to ship them as the story ended.
There were some parts that felt repetitive to me, and I know that this might seem a bit contradicting with what I mentioned about enjoying Alosa's journey, but I just feel like the story could still be impressively written without some scenes that entirely felt unnecessary to me.
"Overall, I really enjoyed reading Tricia Levenseller's Daughter of The Pirate King. With a main character that's pitched as a female Jack Sparrow that's full of sass and wit, a concept that is as compelling as it is thrilling, and twists upon twists in every turn of the page, I just know that fans of the YA fantasy genre have something to love in this book. I would no doubt recommend this title to those who are looking for gripping stories that's told with a well-rounded voice, and an entirely captivating plot."
And be sure to check out the sequel, Daughter of The Siren Queen come February 2018!
Have YOU read the Daughter of The Pirate King? How was it for you? And are you also anticipating the release of it's sequel? Tell me all about it via the comments section below!
Tricia Levenseller writes historical fantasies for young adult readers. Her debut, Daughter of The Pirate King, released earlier this year from Feiwel and Friends, an imprint of Macmillan Publishers.
Initially from a small town in Oregon, Tricia now lives next to the Rocky Mountains with her bossy dog, Rosy. She received her degree in English Language and editing and is thrilled that she never has to read a textbook again. When she's not writing or reading, Tricia enjoys putting together jigsaw puzzles, playing volleyball, and watching shows while eating extra-buttered popcorn.
Until the next one!
Follow me around the internet!