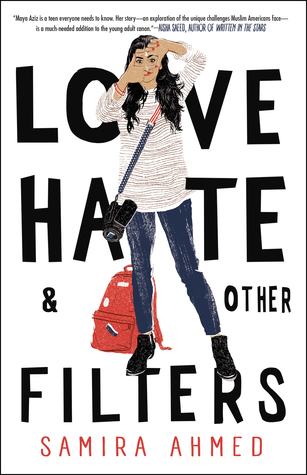 Love, Hate & Other Filters by Samira Ahmed
Genre: YA Contemporary, Diverse, Coming-of-age
Publication: January 16th 2018 from Soho Teen
Series: None. Standalone.
Length: 288 pages
Format: ARC
Rating: ★★★★☆
A searing #OwnVoices coming-of-age debut in which an Indian-American Muslim teen confronts Islamophobia and a reality she can neither explain nor escape–perfect for fans of Angie Thomas, Jacqueline Woodson, and Adam Silvera.
Maya Aziz is torn between futures: the one her parents expect for their good Indian daughter (i.e.; staying nearby in Chicago and being matched with a "suitable" Muslim boy), and the one where she goes to film school in New York City–and maybe, just maybe, kisses a guy she's only known from afar. There's the also the fun stuff, like laughing with her best friend Violet, making on-the-spot documentaries, sneaking away for private swimming lessons at a secret pond in the woods. But her world is shattered when a suicide bomber strikes in the American heartland; by chance, he shares Maya's last name. What happens to the one Muslim family in town when their community is suddenly consumed with hatred and fear?
Huge thanks to my friends from Penguin Random House for sending me an ARC of this book in exchange for an honest review. This did not, in any way, affect my overall opinion of the book and/or the story.
"I read to know that I'm not alone."
To some, this might feel like a plain and simple quote related to C.S. Lewis. But to others, to readers such as myself who turn to outlets such as books and literature for a sense of peace and escape, this statement is more than just a quote. It happens to be a lifestyle, a way of life. And this easily explains why I wanted to read and feature Samira Ahmed's debut novel here on Book Freak Revelations. I want to educate myself and read books that tackle relevant (and sometimes sensitive) social issues to see how I can help other people feel that they are not alone, albeit in my own small way. And with that said, I hope this review could somehow make you, my readers, feel like you could help make this world a better place as well. Read on for a detailed review of Love, Hate, & Other Filters.
Love, Hate, & Other Filters is a diverse, #ownvoices story of an Indian-American teenager named Maya Aziz who is torn between wanting to become a good, traditional Indian daughter and also wanting to follow her dreams of going to a film school and living in New York City. After the occurrence of a terrorist attack within city limits with a suspect who happens to share her last name, however, Maya is further forced into a society that she helplessly loves and fears at the same time. This debut revolves around that central topic, while also impressively tackling relevant social issues like violence, racism,  and Islamophobia.
I'm going to be honest and admit that I didn't have a great time with the first 50 pages of this book. Well, yes, it might just be me, but I found the introduction to be a little too underwhelming. I thought that the opening chapters were flat, and I also felt like the characters didn't have something new to offer. But this might just be due to the fact that I was waiting in too much anticipation for the story's conflict to arise. After reading a certain number of pages, though, my interest was easily piqued and I started to fall in love with Maya Aziz' heartwarming story. It was late when I realized that the story was divided into two parts, based on my perception. The first half focuses on Maya 's sense of self, where she was almost always torn between wanting to follow her dreams, and become a rebel in her parents' eyes, or become a good, typical Muslim-American daughter that her parents always dreamed her of becoming. While the latter half solely focused on modern-day racial discrimination, and bullying.
Once I got the hang of Samira's writing and Maya's story, I found myself to be fully concerned and invested in her well-being, the same as her (sometimes over-protective) parents. I found myself questioning her decisions every now and then and realizing what an amazing young woman she is. Albeit, I didn't really agree with her and her decisions most of the time, I firmly believe that Maya is a character who has a strong foundation, and given the circumstances that she's in, she turned out to be a well-developed character whose story deserves to be told to readers everywhere.
The last thing that I wanted to tackle before concluding my review is how much I both hated and loved the portrayal of bullying, and racial discrimination in this book. I hated this because of the accuracy with which Samira told Maya's story. Now, don't get me wrong, I mean this in the best possible way. It's just that nowadays, these social issues are still undeniably realistic. People still get bullied because of how they look. Now, what I loved about this is the author's audacity to highlight this in her book. I found it to be a brave act to write about this specific social issue and that means a great deal to me, not only as a reader, but also as a human being.
"After being able to read Love, Hate, & Other Filters, I think it's safe to say that the hype that surrounds Samira's debut is so well-deserved. With a distinct and natural voice, Maya Aziz takes readers on an emotional reading experience that's as honest as it is heartfelt. It might not have enchanted me as early as I wanted it to, but it sure packs an unforgettable punch towards the end. Get ready to swoon, cry, and flail over this amazing #ownvoices debut."
Have YOU read Love, Hate, & Other Filters? What did you think of it? Tell me all about it via the comments section below!
SAMIRA AHMED was born in Bombay, India, and grew up in Batavia, Illinois, in a house that smelled like fried onions, spices, and potpourri. She currently resides in the Midwest. She's lived in Vermont, New York City, and Kauai, where she spent a year searching for the perfect mango.
A graduate of the University of Chicago, she taught high school English for seven years, worked to create over 70 small high schools in New York City, and fought to secure billions of additional dollars to fairly fund public schools throughout New York State. She's appeared in the New York Times, New York Daily News, Fox News, NBC, NY1, NPR, and on BBC Radio. Her creative non-fiction and poetry has appeared in Jaggery Lit, Entropy, the Fem, and Claudius Speaks.
Her writing is represented by Eric Smith of P.S. Literary.
Until the next one!
Follow me around the internet!