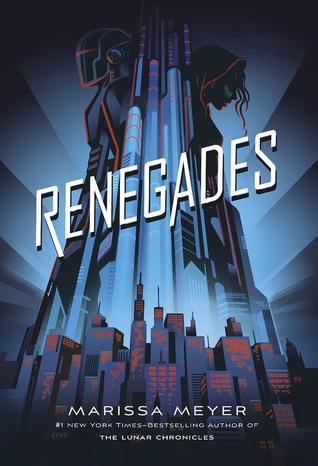 Renegades by Marissa Meyer
Genre: YA Fantasy, Action, Adventure
Publication: November 7, 2017 from Feiwel & Friends / Macmillan USA
Series: Yes. Renegades #1.
Length: 576 pages
Format: ARC from Fierce Reads
Rating: ★★★★★
From #1 New York Times-bestselling author Marissa Meyer, comes a high-stakes world of adventure, passion, danger, and betrayal.
Secret Identities.
Extraordinary Powers.
She wants vengeance. He wants justice.
The Renegades are a syndicate of prodigies—humans with extraordinary abilities—who emerged from the ruins of a crumbled society and established peace and order where chaos reigned. As champions of justice, they remain a symbol of hope and courage to everyone…except the villains they once overthrew.
Nova has a reason to hate the Renegades, and she is on a mission for vengeance. As she gets closer to her target, she meets Adrian, a Renegade boy who believes in justice—and in Nova. But Nova's allegiance is to a villain who has the power to end them both.
Now, before you check out my review, you should definitely check out this Super Heroic Playlist that I curated that will surely amplify every readers' interest in one of Marissa Meyer's best books yet. Go ahead and listen to at least one track (or all of them), it won't disappoint you, I promise. *wink*
Huge thanks to my friends from Macmillan USA / Fierce Reads for inviting me to be a part of the blog tour they're hosting for this title and for sending a review copy in exchange for an honest review. This did not, in any way, affect my overall opinion of the book and/or the story.
I've been a huge fan of Marissa Meyer ever since I read and finished The Lunar Chronicles series way back 2015. I found her stories to be impeccably gripping and undoubtedly captivating, I can't help but identify myself as an avid reader of hers. I also loved her standalone retelling of The Queen of Hearts in Heartless. And today, I can't help but feel so honored to share with you all my thoughts on her upcoming anti-hero novel about a heartbroken Anarchist and a persistent Renegade, both seeking for justice and vengeance in Renegades.
As with her previous works of genius, I am so amazed by the author's writing style in Renegades. As most of my readers know, I'm a fairly slow reader, and fantasy is only my second favorite genre next to contemporary. And so I find it so utterly impressing for Marissa Meyer to present me with a 470+ paged book that I was able to read in one week. And you have to give me credit: I savored reading this book. I didn't want to read it in one sitting as I know the wait would be treacherous afterwards. I guess what I'm ultimately trying to say is that even if the story was quite long I still read through it as if it's a 200-paged contemporary. It proved to be a very fast-paced read.
I loved the idea of being introduced to lots of characters in this one, and getting to know them individually was so important to me that I actually took the time to write down everyone's names, powers, and to classify them, whether they were Anarchists or Renegades. Which is actually saying something because I rarely take down notes. Whenever I review books, I almost always wait to actually finish reading it before brainstorming for points to tackle. But with this book, I needed to have a notepad handy as I found it too captivating to miss details such as the characters. From the most important down to the least and minor character roles, I wanted to know everyone, and up until the very end, I found myself so undeniably in love with them all.
The world building is also easily commendable in Renegades. Readers, this time around, was taken to the enthralling Gatlon City and in just under 470 pages, Marissa Meyer was able to make me want to badly be a part of the fictional setting. She created such a vivid world, and I can't help but ponder on what this setting would look like when turned into a graphic novel. From the City Proper (where the opening scene took place in), to the Renegades Headquarters, every single venue was so impressively developed that I can't help but feel giddy every time I think about it.
As for the romance aspect, I'm so, so satisfied to finally be served with a fantasy novel that didn't really pay much attention as to whether the main character ends up madly in love with it's love interest. Yes, I always try to find swoony scenes for me to ship the main character and the love interest, but ever since I started reading books about dystopia, action, and adventure, I find that romance was almost always a big part of it. In Renegades, the author seldomly paid tribute to it, and Marissa Meyer was able to tell Nova's story without having to rely on any love interest. As much as I wanted for her to end up with Adrian (a.k.a. the closest love interest that she'll ever get), the story required for her to be an independent Anarchist and for her to switch sides and choose to love Adrian would have been to convenient to satisfy me (although if I'm being completely honest, I did expect for this twist in the beginning.)
"I actually have no words to sum up just how amazing Renegades has been for me. It's your typical Marissa Meyer book, written with amazingly vivid world building, a fast-paced way of story telling, a unique set of characters that are absolutely easy to root for, an intriguing cause / plot line that will determine whether you're a Renegade (hero) or an Anarchist (villain), and endless plot twists that will have readers on the edge of their seats in every turn of the page. As of the moment, I can't say if it's my favorite Marissa Meyer book yet, but it certainly has all the aspects that I'm looking for in a favorite."
Are YOU a Renegade or an Anarchist? Go take this quiz to find out! Also, what's your super power and your alter ego? Let me know via the comments section below!
Marissa Meyer is the #1 New York Times-bestselling author of Heartless and The Lunar Chronicles. She lives in Tacoma, Washington, with her husband and twin daughters. She's a fan of most things geeky (Sailor Moon, Firefly, any occasion that requires a costume), and has been in love with fairy tales since she was a child. She may or may not be a cyborg. You may find her online on her website, Twitter, Facebook, Pinterest, and Goodreads.
Until the next one!

Follow me around the internet!
Facebook |  Twitter | Instagram | Goodreads