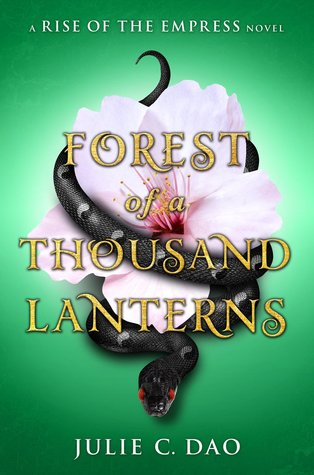 Forest of A Thousand Lanterns by Julie C. Dao
Genre: YA Fantasy, Retelling, Action, Adventure
Publication: October 10, 2017 from Philomel Books
Series: Rise of The Empress #1
Length: 363 pages
Format: ARC
Rating: ★★★★★
An East Asian fantasy reimagining of The Evil Queen legend about one peasant girl's quest to become Empress–and the darkness she must unleash to achieve her destiny.

Eighteen-year-old Xifeng is beautiful. The stars say she is destined for greatness, that she is meant to be Empress of Feng Lu. But only if she embraces the darkness within her. Growing up as a peasant in a forgotten village on the edge of the map, Xifeng longs to fulfill the destiny promised to her by her cruel aunt, the witch Guma, who has read the cards and seen glimmers of Xifeng's majestic future. But is the price of the throne too high?

Because in order to achieve greatness, she must spurn the young man who loves her and exploit the callous magic that runs through her veins–sorcery fueled by eating the hearts of the recently killed. For the god who has sent her on this journey will not be satisfied until his power is absolute.
Huge thanks to my friends from Penguin Random House for sending me an ARC of this book in exchange for an honest review. This did not, in any way, affect my overall opinion of the book and/or the story.
I have been a huge fan of villain stories for the longest time. Whether it be a short retelling / re-imagining, or a series that's entirely centered on how a villain came to be, I am honestly all for it. There's something about the concept that screams justice, and revenge, and I find that these kinds of stories often have amazing character build-up that almost always leaves me wanting more. And I'm proud to say the same of Julie C. Dao's debut novel, Forest of a Thousand Lanterns.
The first thing that I want to tackle in this review is the luscious and lyrical writing style. I'd like to be dramatic and say first and foremost that one of the aspects that I immediately fell in love with is how the author was able to put heart and emotion into every page that she's written. Every chapter that helped to tell Xifeng's story is filled with strong sentiments that helped me let out a breath that I didn't know I was holding when I read it. It's been a while since I read a fantasy story that is as moving as this one, and I'm glad I stumbled upon a debut, as I love supporting new authors that would like to make their first "mark" in literature.
I also adored how the author made each of the characters equally relevant to the story. Personally, it's hard for me to get into a book that has too many characters, whether they be major or minor ones. Sometimes, it's hard for me to follow through with a story that seems a little too overcrowded, but that certainly wasn't the case in this book. Every single character played a vital role in order for Xifeng to become the Empress of Feng Lu. I love how even if some of the characters were minor ones, they still had their share of the spotlight, helping the readers get to know them very well within a few scenes, chapters, or pages.
Another impressive aspect that I wanted to focus on is the positive Asian representation that this book was able to pull off. When I saw this book's synopsis which says "An East-Asian fantasy re-imagining of The Evil Queen legend…", I was automatically sold! I'm on an endless journey trying to find diverse books by diverse authors, and I am so utterly impressed with this one. The festivals, the environment, the delicacies, whether they be sweet or savory, they all gave me a brief glimpse of what life could be like if I ever find myself in a place like Feng Lu. And I have to say, it definitely got me excitedly daydreaming. Which is a good thing, obviously.
And as for the ending, I love how it left a few unanswered questions for readers (which I won't share so as to keep this review spoiler-free, don't worry.) which opened up tons of details to anticipate in the sequel. I know this might sound contradicting coming from a reader who hates cliffhangers, but I was actually pretty satisfied with how this story ended. Yes, I wanted answers to some of my questions, but I respect the story and the series enough to wait for the sequel, even if it'll be treacherous. I'm saying this because there are tons of fantasy books out there that don't end as impressively as this book does. It definitely satisfied me, and I'm pretty sure a lot of readers will be satisfied with it as well.
"Exquisitely written and filled with endless wonder, magic, and aspiration, Xifeng's story in Forest of A Thousand Lanterns will have readers on the edge of their seats waiting in anticipation to know the lengths a determined young woman would go to just to see her dreams realized. Even if it means losing the things she hold close to her heart. It's filled with ambition, lyrical narration, characters that are easy to root for, and a concept that is as captivating as it is alluring. Easily one of my 5-star reads this year so far."
Check out other reviews for this title by some of my blogger friends:

Are YOU a fan of fairy tale retelling stories? If so, then what's your favorite? Also, have you read Julie C. Dao's debut novel as well? Let me know via the comments section below!
Julie C. Dao (www.juliedao.com) is a proud Vietnamese-American who was born in upstate New York. She studied medicine in college, but came to realize blood and needles were her Kryptonite. By day, she worked in science news and research; by night, she wrote books about heroines unafraid to fight for their dreams, which inspired her to follow her passion of becoming a published author. Forest of a Thousand Lanterns is her debut novel. Julie lives in New England. Follow her on Twitter @jules_writes.
Julie is represented by Tamar Rydzinski of the Laura Dail Literary Agency.
Until the next one!
Follow me around the internet!
Facebook |  Twitter | Instagram | Goodreads