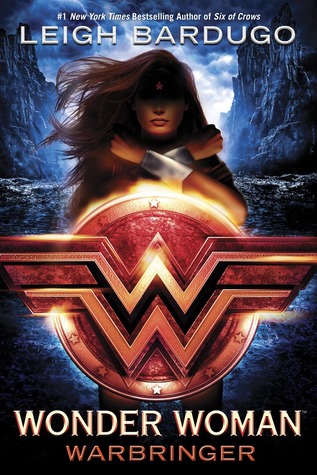 Wonder Woman: Warbringer by Leigh Bardugo
Genre: YA Fantasy, Retelling, Adventure
Publication: August 29, 2017 from Random House Books for Young Readers
Series: DC Icons Series #1
Length: 384 pages
Format: Hardcover
Rating: ★★★★★
She will become one of the world's greatest heroes: WONDER WOMAN. But first she is Diana, Princess of the Amazons. And her fight is just beginning. . . .

Diana longs to prove herself to her legendary warrior sisters. But when the opportunity finally comes, she throws away her chance at glory and breaks Amazon law—risking exile—to save a mere mortal. Even worse, Alia Keralis is no ordinary girl and with this single brave act, Diana may have doomed the world.

Alia just wanted to escape her overprotective brother with a semester at sea. She doesn't know she is being hunted. When a bomb detonates aboard her ship, Alia is rescued by a mysterious girl of extraordinary strength and forced to confront a horrible truth: Alia is a Warbringer—a direct descendant of the infamous Helen of Troy, fated to bring about an age of bloodshed and misery.

Together, Diana and Alia will face an army of enemies—mortal and divine—determined to either destroy or possess the Warbringer. If they have any hope of saving both their worlds, they will have to stand side by side against the tide of war.
Huge thanks to my friends from Penguin Random House International for sending me an ARC of this book in exchange for an honest review. This did not, in any way, affect my overall opinion of the book and/or the story.
The phenomenal Wonder Woman film has proven to be one of the most powerful movies I have ever watched. It's empowering, allowing it's viewers to feel this newfound strength to face whatever challenges that might come their way. I'm not sure if I'm being too dramatic here, but it's honestly what I felt when I watched the movie. And to be able to read and feature Wonder Woman: Warbringer at this point just adds to that elation. Read on for my review of the first DC Icons Series book from Leigh Bardugo.
As with the film, I fell undeniably in love with Diana's story but this time, with Alia. Albeit this time around, it's a friendship story, I grew fond of our beloved Amazon just the same. (I was actually lucky enough to be able to avoid the heartbreak with this book, though. If you watched the movie, you would completely understand my sentiment) Alia and Diana were "Sisters in Battle" and I loved the idea of having someone to call a friend, let alone a sister in battle. From start to finish, I found their bond to be strong and even if they only just met, they trusted each other with their lives. I am impressed at how Leigh managed to tell their exciting and very empowering story.
As with Leigh's other books, the world building and setting development in this book were beautifully striking. From Themyscira, to New York, to Greece, Leigh once again takes her readers on an action-packed adventure giving them lush depictions of Diana's homeland, as well as a vibrant view into the lives of the Amazons. Readers would no doubt enjoy accompanying Diana, Alia, and their squad in their fight to end a "war to end all wars" as Steve Trevor calls it.
On a more technical note, I loved reading Leigh's take on something new but just as magnificent like her previous stories. I found this novel refreshing to read because for years, I only knew Leigh as the lovely woman who introduced me to Alina, Mal, Kaz, Inej, Nina, Mathias, etc. all of which are from the Grisha world. To see her write something out of that universe and still feel delighted doesn't come as a surprise to me, though. Her writing was very creative, and the amount of research and effort that went into this book certainly delivered well.
Lastly, I appreciated the added diversity and women empowerment aspect of this book. Making Alia, the Warbringer, a descendant of Helen of Troy, black, made the relevance of the story's message all the more clear. The idea that even though she had great power just waiting to burst from within her, and yet, Alia was still bullied as a child, made such an impact on me. And to see her impressive character development, from being a passive New Yorker to becoming an empowered and passionate young woman who cares for not just her compatriots, but also for her country just made me love her more than I already do.
"Overall, Wonder Woman: Warbringer is definitely a novel from one of the queens of YA fantasies that's worth anticipating and getting hyped up about. It subtly talks about feminism and all kinds of empowerment, and it has the power to inspire people to be the best versions of themselves. Definitely a great novel to introduce the rest of the DC Icons that is action-packed and intensely gripping in every way."
Has a book ever made you feel motivated and empowered? Mind sharing what book that is with me? Also, have you watched the Wonder Woman film? What did you think of it? Let me know via the comments section below!
Leigh Bardugo is the #1 New York Times bestselling and USA Todaybestselling author of the Six of Crows Duology and the Grisha Trilogy (Shadow and Bone, Siege and Storm, and Ruin and Rising), as well as the upcoming Wonder Woman: Warbringer (Aug 2017) and The Language of Thorns (Sept 2017).
She was born in Jerusalem, grew up in Los Angeles, and graduated from Yale University. These days, she lives and writes in Hollywood where she can occasionally be heard singing with her band.
She would be delighted if you followed her on Twitter, elated if you visited her website, and fairly giddy if you liked her selfies on Instagram.
Until the next one!

Follow me around the internet!
Facebook |  Twitter | Instagram | Goodreads