After having experienced the overflowing feels of the previous #romanceclass event I went to last February, just like any obsessed being, I needed to experience the thrill again. To buy those locally published books and have them signed by the authors. To witness such attractive people read excerpts from some of my favorite stories. And to meet some of the #romanceclass community members… What an enthralling ride, yes? Today, I'm ecstatic to be sharing with you all how my day went during #AprilFeelsDay2017!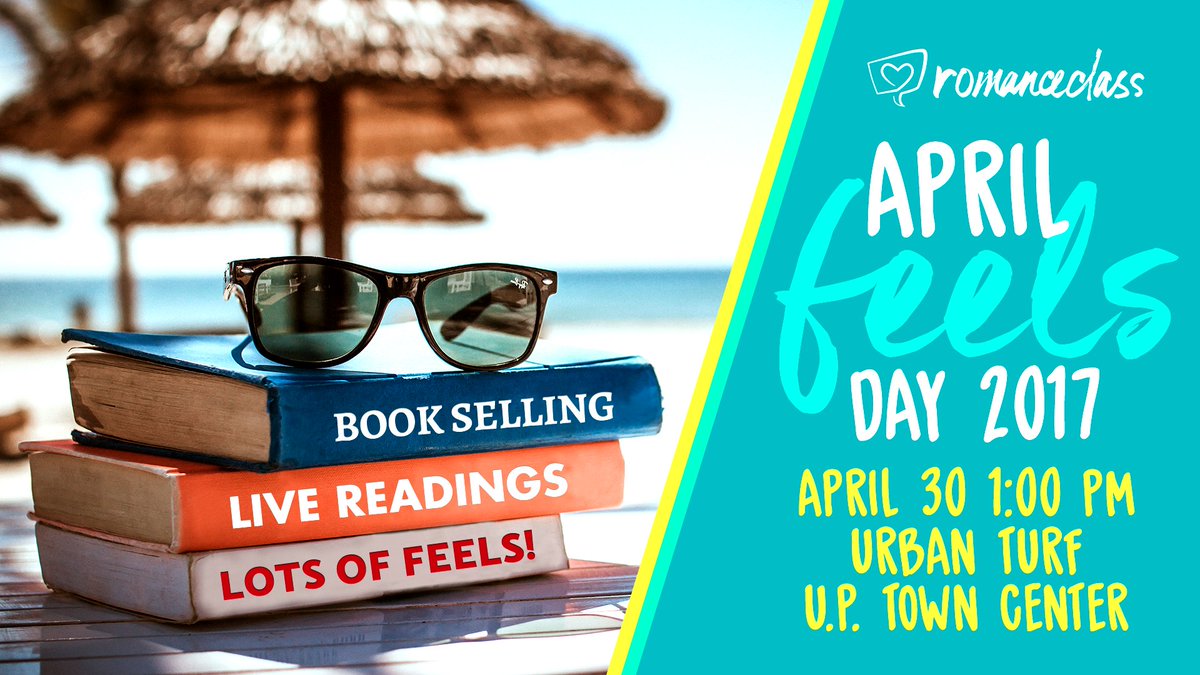 My buddies for this event are none other than my friends Inah of The Bibliophile Confessions, Kate from The Bookaholic Blurbs, and Gavin. Shame, we didn't have a photo together because of how fast the event was, but we did enjoy the event with each other as company.
We didn't arrive as early as we wanted, so lots of people were already there when we arrived. The books for sale shelves were already filled, and there were already people who were browsing. There were lots of new amazing titles from equally talented authors, so knowing me, y'all could guess what my first order of business was. *laughs*
Here are the books that made their debut during the event! Credits to Ms. Caryn Santi, as I'm well aware she's responsible for this fabulous set-up.
Before the live readings, there was quite a long break, which I used to mingle around with the people at the event, both readers and authors alike. Here are some photos I took during this part of the event:
This was also the part of the program where those who signed up for the games were free to engage themselves in very competitive rounds of trivias, and other challenges. As much as I wanted to join, I wasn't able to sign up so I just watched players as they tried every single game that the hosts prepared for them.
The live readings started shortly right after. This time around, we have 8 live readers, mainly Gio Gahol, Migs Almendras, Fred Lo, Rachel Coates, Gracielle So, Vanya Castor, and Sam Aquino. Embedding all the videos of the live readings below. Credits go to Tara Frejas, Ana Tejano, and the #romanceclass Youtube page.
Fake It Till We Make It by Ana Tejano
Keeping the Distance by Clarisse David
Kate, Finally by Yeyet Soriano
"One Certain Day" from the Promdi Heart Anthology by Jay E. Tria
Another Word for Happy by Agay Llanera
That Kind of Guy by Mina V. Esguerra
Waiting in the Wings by Tara Frejas (Excerpt #1)
Waiting in the Wings by Tara Frejas (Excerpt #2)
This part of the post is under construction! Watch out for this space, as I will be updating this for when videos of the live readings are finally up and ready for viewing (and reliving the feels!)
After the live readings, I went up to some of the live readers to have my books signed and for a photo op. (Hindi papahuli si mumshie!) Although I wasn't able to approach them all, it was still a surreal experience to at least get the chance to talk to them, however little, about their performance.
If it isn't obvious yet, I was more than delighted with the event's readings! They read Waiting In The Wings, which happens to be one of my most favorite #romanceclass titles, You Could Be The One, one I'm highly anticipating, and a short story from Promdi Heart that completely shattered my heart entitled One Certain Day. Thank the stars for these readings!
Lastly, here are some of the books I bought during the event. Some, I've been meaning to grab my hands on since the last event, but since I'm on a budget (albeit not too tight, lol) I was only able to purchase them last Sunday.
Here's my #AprilFeelsDay2017 loot!
Huge thanks to the entire #romanceclass community for making all of this possible. I enjoyed every single moment I've shared with all the authors and readers and now, I'm off to find the time to read all the new books I bought. Until the next one!