For fans of The DUFF, this hilarious and true-to-teen romance is Broad City meets Judy Blume.

The summer before college, Hannah swears she's finally going to find The One. And for five perfect minutes, Hannah does find him. He's cute and makes her laugh like crazy. She just wishes she'd caught his name, because Toilet Boy Cinderella really lacks sex appeal.

For Sam, the summer is off to a bad start for a million reasons. But for five minutes his luck changes: in a fancy restroom painted purple like it belongs in a Bond villain hideaway, Sam falls head over heels for some strange and hilarious girl. Of course, he doesn't know her name. With his luck, he'll never see her again, and he'll remain a girlfriendless, moony-eyed virgin. Forever.

But another chance meeting brings them together, only to have a chance misunderstanding drive them apart . . . and then the cycle starts all over again. Madcap mishaps, raunchy hilarity, and deep romance follow these two wherever they go. For two people so clearly destined for each other, they sure have a hell of a lot of trouble even getting together.
Book Specifications:
Author: Tom Ellen and Lucy Ivison
Format: Hardcover
Part of a Series: No. Standalone.
Release Date: May 3, 2016
Publisher: Delacorte Press
No. of Pages: 305 pages
Price: Php755.00
Genre: Romance, Drama, Chick Lit, Young Adult, Love, Fantasy, Humor, Realistic Fiction, Women's Literature
Book Review:
I received a finished copy of this book from Penguin Random House which in no way swayed my opinion about the story.
When I came across this book at our local book stores a few days after it's release, I got secondhand embarrassment for the people involved, just by reading the book's title. I don't know. I'm not a big fan of awkward moments. And I definitely don't want to get involved because I can't withstand firsthand or secondhand embarrassment. I have zero tolerance for it. But when the chance to review this came up, I wanted to give it a try.
Told in dual perspectives, the book started with introductions, of course. And what I liked about it is that it stayed true to it's premise of delivering the readers a truly awkward love story between our main characters, Sam and Hannah. All throughout 305 pages, the story emanated secondhand embarrassment for the MCs. But because of that, the book became such an entertaining read. Every page was filled with scenes that would either make you cringe with humiliation, or make you giddy because of the romance. To be honest, I liked this book more because it was utterly entertaining.
Another thing I liked about this book is how it highlighted high school friendships and how strong, bounded, and yet destructible teens could get. Of course, we all went through the phase wherein we tend to get competitive with our friends in terms of grades, love life, and a whole lot more, and this book portrayed this factor well with Hannah, Stella, Grace, and Tilly's friendship. We see just how much they went through with their love-hate relationship. But, seeing that they ARE friends after all, everything, still works out perfectly in the end.
On a different note, when I looked this book up on Goodreads, I saw that some other reviewers disliked this novel mainly because the entire story revolved on losing one's virginity. I mean, I get that. The book didn't have TONS of substance in it, but I think the story stayed true to it's title, synopsis, and premise. Perhaps the secret to enjoying this book is reading it with absolutely no expectations. Don't expect for it to have deep background stories, or immense character developments. Just don't expect nor assume anything about the novel. Just read it. Believe me, you'll end up enjoying it just as I said.
And on a more final note, don't let your guard down with this book, because just when you feel like you've been fully entertained by this book, wait 'till you read the next page. I am telling you, this book is amusingly enjoyable. 
"If you're looking for an amusing read filled with humor and equal servings of swoon and romance, A Totally Awkward Love Story might just be the book for you. Making you feel secondhand embarrassment for the characters will surely make you feel somehow connected with the story."
RATING:
Characters – 3.50
Plot – 3.00
Writing Style – 4.00
Pacing – 4.50
Ending – 3.75
TOTAL – 3.75 / 4 Stars
Quotable Quotes:
"Look at Ron and Hermione. Obstacles everywhere. But did Hermione give up on Ron when he was dating Lavender Brown? Did Ron give up on Hermione when he was knocking about with that Bulgarian Quidditch bloke? Did they let the pressure of tracking down the final few Horcruxes tear them apart? No. All the drama they went through made it all the more poignant when they finally got together."

"…I suppose clichés wouldn't be clichés if they weren't based on some sort of tediously predictable truth."

"You're only as old as you feel."

"Look, it won't fit. It's too big. I'm sorry." (OH MY GOD THIS QUOTE)
About the Author: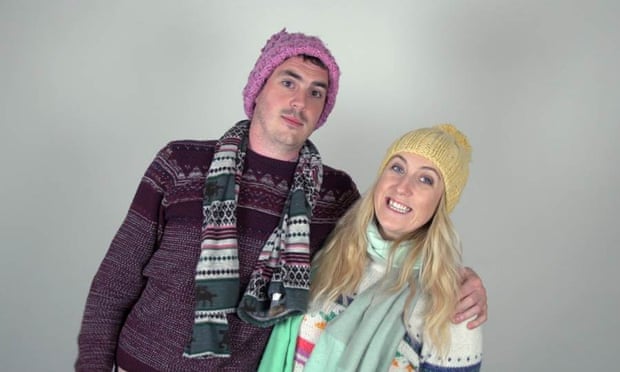 Tom Ellen and Lucy Ivison met at the end of high school and quickly became sweethearts. Though they broke up in college, they remain best friends. Lucy runs the online teen magazine Whatever After and teaches in girls's schools across London, specializing in building confidence and creativity. Tom is a journalist and has written for Time Out, Vice, ESPN, Glamour, and many other publications. They co-wrote A Totally Awkward Love Story, which was partially inspired by their own high school relationship, with Tom writing Sam's chapters and Lucy writing Hannah's. This is their first novel.
Twitter || Goodreads || Website