This morning, Kady thought breaking up with Ezra was the hardest thing she'd have to do.

This afternoon, her planet was invaded.

The year is 2575, and two rival megacorporations are at war over a planet that's little more than an ice-covered speck at the edge of the universe. Too bad nobody thought to warn the people living on it. With enemy fire raining down on them, Kady and Ezra—who are barely even talking to each other—are forced to fight their way onto an evacuating fleet, with an enemy warship in hot pursuit.

But their problems are just getting started. A deadly plague has broken out and is mutating, with terrifying results; the fleet's AI, which should be protecting them, may actually be their enemy; and nobody in charge will say what's really going on. As Kady hacks into a tangled web of data to find the truth, it's clear only one person can help her bring it all to light: the ex-boyfriend she swore she'd never speak to again.

Told through a fascinating dossier of hacked documents—including emails, schematics, military files, IMs, medical reports, interviews, and more—Illuminae is the first book in a heart-stopping, high-octane trilogy about lives interrupted, the price of truth, and the courage of everyday heroes.
Book Specifications:
Author: Amie Kaufman & Jay Kristoff
Format: ARC
Part of a Series: Yes. The Illuminae Files #1
Release Date: October 20, 2015
Publisher: Alfred A. Knopf / Knopf Books for Young Readers
No. of Pages: 608 pages
Price: None. Sourced from Dianne of Oops! I Read a Book Again.
Genre: Young Adult, Science Fiction, Dystopia, Survival, Space, Fiction, Fantasy, Romance, Adventure
Book Review:
The Cover: The cover on the ARC states that it isn't final yet. However, there's a released and final cover available for viewing on Goodreads! Here it is: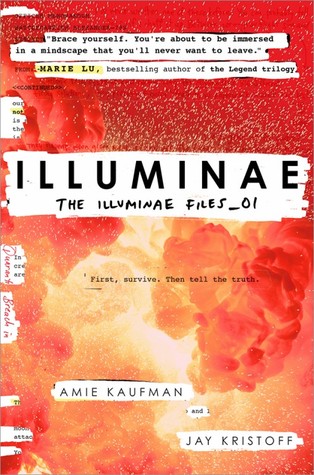 Final cover of Illuminae (From Goodreads)
Basically, the cover features a bright red for a background with etchings of white dots, which I have guessed, is a vibrant image of the sky. This book is a science fiction work of art and the cover clearly depicted that for bibliophiles to see. I love the vibe of the cover as well as the typewriter, and handwriting fonts used to make the cover more beautiful. Also, I've received news that the hardcover ARC is jaw-dropping! I can't wait to see this on my shelves! Definitely a cover-buy! (5 out of 5 stars)
The Story: I'm going to be honest. It took me about 150 pages to hook me up to this bad boy! I found the writing style somewhat different from what I usually read and to be honest,. I didn't quite get the writing style and the flow of the story at first. It was after 150 pages that it tickled my curiosity and willed me to actually finish the book before I pass the ARC to the next reviewer.
The creativity of this book's conception is mind-blowing, I have to say! Never have I ever imagined myself to encounter a book with a story that's told through IMs, medical reports, etc. I mean, at first, it wouldn't make sense to a person. But then, once you give it a lot of thought, your mind will be blown, I am telling you. I'm giving this book plus points just for the creative writing style of Amie Kaufman and Jay Kristoff.
The concept of having an outbreak in an spaceships while going on a war against other spaceships is abso- ███████-lutely incredible! This is what made me cling on longer to this book that it actually made a big impact on me. I don't know why, but the battle (?) between the airships was really cool! To others, it may seem a little off and disconcerting, considering the fact that almost the entire book was about said battle, but it pushed the right buttons for me.
The story was narrated from different points of view. That might be interesting to some, but it sure was confusing to me. Maybe I'm just not that ready to read something as sophisticated as this book, but I found the alternating POVs to be a little too much and quite confusing. A lot of people had a say in the story and sometimes, it gets in the way of comprehension. But then again, that might just be me.
The illustrations were epic and, let's be honest, made the story a whole lot more interesting and fast-paced. As a reader, have you ever undergone a phase where you just want to read a book filled with colorful photos? Yeah, this book is reminiscent of that moment, because this big chunk of art is filled with stuff like that! Also, you might be wondering as to how I came to finish this in under a week… It's because it's filled with illustrations. Period.
In one word, Illuminae is ███████ EPIC. A little flawed for me, but still… (4 out of 5 stars)
The Ending: I never imagined for this book to end the way it did. I know it's the first book to a new mind-boggling trilogy, but I don't know why I didn't expect for the ending to be a big cliff hanger. I mean, I've encountered this before! I just wanted a concrete closure because I know it's going to take a year before I read more about Kady, Ezra, & AIDAN. (Oh don't even get me started on AIDAN. Dear God!!) But it was cool how everything seemed in place with this first installment. The conflicts were resolved, the characters were developed wonderfully as the story came to a temporary close, and lastly, the illustrations found within the last few pages were very creative and it brought justice to the whole book. At first, I thought that the illustrations might get redundant as the story progressed, but I'm glad I was proven wrong. (4 out of 5 stars)
---
The Verdict: As I've stated before, Illuminae is one great read! It is a thrilling start to an even more thrilling trilogy! It would certainly be a great book recommendation for fans of Science Fiction, The Walking Dead, as well as Star Wars. Yep. Also, it has pictures you guys!! Now, here's to waiting for the next installment. *cries* (4.33 out of 5 stars)
Quotable Quotes:
"You're all I think about. Every time I close my eyes, I see you. Every time I dream, you're there. I think about us and how I messed it up and it's like someone is tearing my insides out." – Ezra to Kady

"I try to reach out and connect, to remind him however I can, in my own super awkward way, that I'm here. That if he does something dumb over there, there's one person left who cares." – Kady referring to Ezra

"You deserve every star in the galaxy laid out at your feet and a thousand diamonds in your hair. You deserve someone who'll run with you as far and as fast as you want to Holding your hand, not holding you back." – Ezra to Kady

"Miracles are statistical improbabilities. And fate is an illusion humanity uses to comfort itself in the dark. There are no absolutes in life save death." – AIDAN

"The YOU who had this conversation with me. Part of being alive is having life change us. The people around us. The events we live through. All of them shape us. And that's what I think you're afraid of. Maybe not of dying. But of this you. The you you've become, ceasing to exist." – Kady to AIDAN

I HAVE NEVER IMAGINED FOR A SCI-FI BOOK TO HAVE SUCH FEELS-Y QUOTES, OH FOR THE LOVE GOD!
About The Author:
Amie Kaufman is the New York Times bestselling co-author of These Broken Stars and This Shattered World, and Illuminae, the first in a new series starting in 2015. She writes science fiction and fantasy for teens, and her favourite procrastination techniques involve chocolate, baking, sailing, excellent books and TV, plotting and executing overseas travel, and napping.
She lives in Melbourne, Australia with her husband, their rescue dog, and her considerable library. She is represented by Tracey Adams of Adams Literary.
Jay Kristoff is the award-winning author of THE LOTUS WAR trilogy, a Japanese-inspired steampunk fantasy. Part 3, ENDSINGER, is out now. He's also co-author of the upcoming ILLUMINAE (with Amie Kaufman), a YA Sci-Fi… thing, to be released by Knopf/Random House in 2015, and NEVERNIGHT, the first part of a new fantasy trilogy kicking off in 2016.
Jay is 6'7 and has approximately 13380 days to live. He abides in Melbourne with his secret agent kung-fu assassin wife, and the world's laziest Jack Russell.
He does not believe in happy endings.