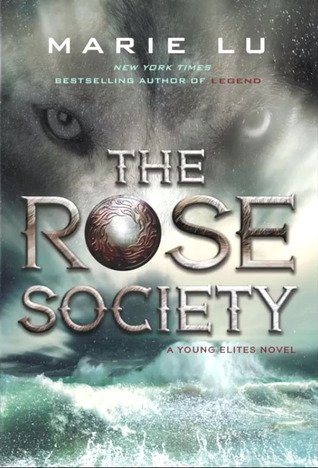 From New York Times bestselling author Marie Lu comes the second book in the exhilarating Young Elites series

Once upon a time, a girl had a father, a prince, a society of friends. Then they betrayed her, and she destroyed them all.

Adelina Amouteru's heart has suffered at the hands of both family and friends, turning her down the bitter path of revenge. Now known and feared as the White Wolf, she and her sister flee Kenettra to find other Young Elites in the hopes of building her own army of allies. Her goal: to strike down the Inquisition Axis, the white-cloaked soldiers that murdered her love, the Crown Prince Enzo Valenciano.

But Adelina is no heroine. Her powers, fed only by fear and hate, have started to grow beyond her control. She does not trust her newfound Elite friends. Teren Santoro, leader of the Inquisition, wants her dead. And her former friends, Raffaele and the Dagger Society, want to stop her thirst for vengeance. Adelina struggles to cling to the good within her. But how can someone be good, when her very existence depends on darkness?
Remember the time I fangirled so hard over Marie Lu's The Young Elites? Yeah, I loved that book! I actually believe that vengeance found in books are totally action packed and absolutely worth the hype! I am a big fan of anything as long as there is vengeance in it. I really don't know why. Maybe because of all the past experiences that helped me become who I am today is why I love this theme. As much as I want to believe that I am a creature with a dark past, I'm disappointed to inform everyone that the only thing I have in common with Adelina is her worthless set of "friends". Yeah, I have some of those too! But let's move on, shall we?
This book continues with where The Young Elites ended. If you've read the first book, you would know that the title of this book, The Rose Society, is the group name founded by Adelina Amouteru. After her begrudging experience with the other malfettos, she decided to make a group where she is the leader, and no one could tell her what to do.
"I pledge myself to the Rose Society until the end of my days, to use my eyes to see all that happens, my tongue to woo other to our side, my ears to hear every secret, my hands to crush my enemies. I will do everything in my power to destroy all who stand in my way." – The Rose Society Induction Passage, written by Adelina Amouteru
I'm going to be honest. I actually forgot some points in the book, but I would happily re-read it in time for the release of the next installment.
The Rose Society is set to be released on October 13, 2015, by G.P. Putnam's Sons Books for Young Readers.
What do you think of this book? Are you also a fan of Marie Lu? What is your favorite book by her? Sound off down below in the comment section!