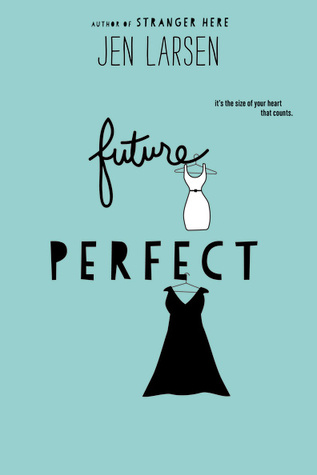 Every year on her birthday, Ashley Perkins gets a card from her grandmother—a card that always contains a promise: lose enough weight, and I will buy your happiness.

Ashley doesn't think there's anything wrong with the way she looks, but no amount of arguing can persuade her grandmother that "fat" isn't a dirty word—that Ashley is happy with her life, and her body, as it is.
But Ashley wasn't counting on having her dreams served up on a silver platter at her latest birthday party. She falters when Grandmother offers the one thing she's always wanted: tuition to attend Harvard University—in exchange for undergoing weight loss surgery.

As Ashley grapples with the choice that little white card has given her, she feels pressured by her friends, her family, even administrators at school. But what's a girl to do when the reflection in her mirror seems to bother everyone but her?

Through her indecisions and doubts, Ashley's story is a liberating one—a tale of one girl, who knows that weight is just a number, and that no one is completely perfect.
Remember that time I listed Dumplin' by Julie Murphy as one of my most anticipated reads of 2015? Can you recall the reasons as to why I did so? Well, today, I'm once again sharing another anticipated read of mine: Future Perfect by Jen Larsen.
Just like in Dumplin', the concept of Future Perfect's story is an empowering one. With a "fat" girl for a protagonist, and without even having to read the whole book, you would know that this novel has the makings of every obese and overweight's hero. Just by reading the blurb, you would know that Jen attempted to empower her readers who are a pound heavier than most.
If I can remember it correctly, it was January of 2015 that a trend arose in the Young Adult genre. Bibliophiles from all over the globe rapidly fell in love with novels that tackle social issues like depression, bullying, suicide, etc. Wonderful novels like All The Bright Places, My Heart and Other Black Holes, and The Last Time We Say Goodbye all got their hypes from that time that this trend was at it's peak. And now, it seems like there's a new trend waiting just around the corner. Weight insecurity has been a social issue for quite some time now, and it really brings me joy that some of the releases lately are about this issue. I am crossing everything on me that is crossable in hopes seeing more of this trend.
But on a more positive note, I would just like to tell everyone that I have been approved for an eARC of this wonderful book on Edelweiss by HarperCollins International! I'm just trying to cope up with my school work and I will get to it as soon as my schedule lightens up.But thank you so much, HC! You guys are absolutely amazing!
Future Perfect by Jen Larsen will be out on October 6, 2015 by HarperTeen!
What are your thoughts from this upcoming book? Are you as excited about it as I am? And what are your thoughts on weight insecurity becoming a trend in the Young Adult genre? Let me know down in the comments below!